Centre for Collaborative Health Professional Education

The Centre for Collaborative Health Professional Education (CCHPE) develops, implements and evaluates interprofessional educaton (IPE) activities at Memorial. IPE activities involve learners from various health/social care backgrounds (medicine, nursing, pharmacy, social work, psychology, and others) learning with, from and about each other to provide safer, more effective and efficient health/social care services.
Find our more about CCHPE on our About Us page.
If you're an IPE Facilitator, click here to find out more.
IPE Learners can find out more by clicking here.
---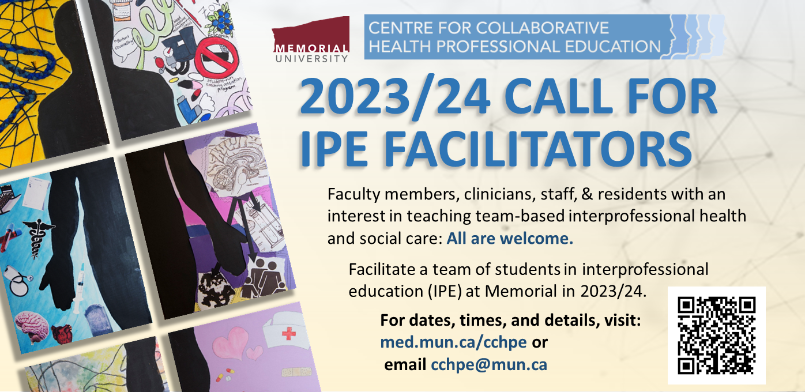 CALL FOR FACILITATORS, 2023/24

Online Information Session: Wednesday, August 9th, 12:00pm
It's that time of year again! We're excited to put out our call for volunteers to join an interprofessional learner team in one (or more!) of our IPE activities starting in September 2023. Facilitators are guides for learner teams who interpret and contextualize the concepts learners discuss in our programming.

Whether you're a faculty member, health/social care provider, resident, senior student, or just passionate about interprofessional team-based health/social care practice, there's a place for you on our team. Participating in IPE as a facilitator is a great opportunity to develop your own collaboration skills and reflect on your practice. Bonus: it's fun!

If you'd like to learn more, there will be an online information session on Wednesday, August 9th at 12:00pm. Contact Adam Reid, IPE Coordinator for more details and to register (864-4901; adam.reid@med.mun.ca).

Dates, times, and more details are also available on our website. Visit our Facilitators page for more, or complete our Application Form to get the process started.
---
Newsflash! Interprofessional Health/Social Care in the News
June 15, 2022: CCHPE's team has contributed to a news item in Kicker, the College of the North Atlantic's journalism program publication. This article is part of their special report on collaborative care in Newfoundland and Labrador, in particular the ongoing introduction of Collaborative Team Clinics across the province.

Interested in learning more? Click there to read the full article!
---
Follow CCHPE on Twitter
We're excited to join the ongoing discourse on collaborative practice and interprofessionalism in health and social care taking place on twitter. Twitter is a great place to engage with facilitators, learners, researchers, patients/clients, and advocacy groups in Newfoundland and Labrador, and around the world.
Follow us on Twitter @CCHPE_MemorialU for updates on our projects and programming, and to connect with IPECP stakeholders and join the conversation.
---
Happy 20th Anniversary, CCHPE!
Since 1999, CCHPE has developed, implemented and researched interprofessional education and collaborative practice at Memorial University and across Newfoundland and Labrador. We think that's pretty special.
On September 30th, 2019, our generous and committed stakeholders joined CCHPE staff at the Faculty of Medicine to celebrate 20 years of interprofessional education at Memorial. Thank you to all our partners from the Faculties of Nursing and Education, the Schools of Pharmacy, Social Work, and Human Kinetics and Recreation, the Doctor of Psychology program and Student Wellness and Counseling Centre, the Department of Health and Community Services, the Eastern Regional Health Authority, and beyond for standing with us.
Our work together has only begun.
---
Memorial University Supports Exploration of Expansion of Interprofessional Education
The Centre for Collaborative Health Professional Education (CCHPE) at Memorial University in Newfoundland and Labrador (NL), is thrilled to be the recipient of two university funded awards for projects related to the expansion of interprofessional education (IPE). The funding will allow for new partnering with other provincial educational institutions, Regional Health Authorities, and community and patient organizations. The need and capacity for provincial IPE programming across the continuum of professional development will be explored with partners.
CCHPE currently designs, implements and evaluates IPE for students from seven health/social professional training programs (clinical psychology, human kinetics and recreation, medicine, nursing, pharmacy, police studies and social work) along with collaborators from all participating units.
The adjudication panels of the Teaching and Learning and Public Engagement Accelerator Funds have awarded CCHPE a total of $281,248 to create the partnerships required to explore the feasibility of a comprehensive provincial patient-centred IPE program. This project has the potential to enhance interprofessional collaboration training for current and future health/social care professionals providing frontline care to patients/clients and families in NL.
CCHPE is proud to have the support of the Deans and Directors of participating programs, internal technical partners, the provincial government, Eastern Health, the College of the North Atlantic and the Community Sector Council in developing the two funding proposals. Dr. Olga Heath, Director of CCHPE comments, "It is a very exciting time for CCHPE as we look ahead to the enhancement of our highly regarded and innovative IPE programming".
---