2017 awards
Dean's awards recognize remarkable faculty and staff
On June 1, the Faculty of Medicine recognized recipients of the Dean's Research and Service Excellence Awards, and the Max House Teaching Award for Excellence in Continuing Medical Education and Continuing Professional Development.

The Dean's Research Awards recognize faculty members whose contributions to research in their fields have made them active and valued participants in Memorial's vibrant research community.

The Dean's Service Excellence Awards recognize outstanding contributions by non-academic staff in a division or discipline for job performance, service and dedication to faculty, staff and students, and contributions to the achievements of goals for educational programs.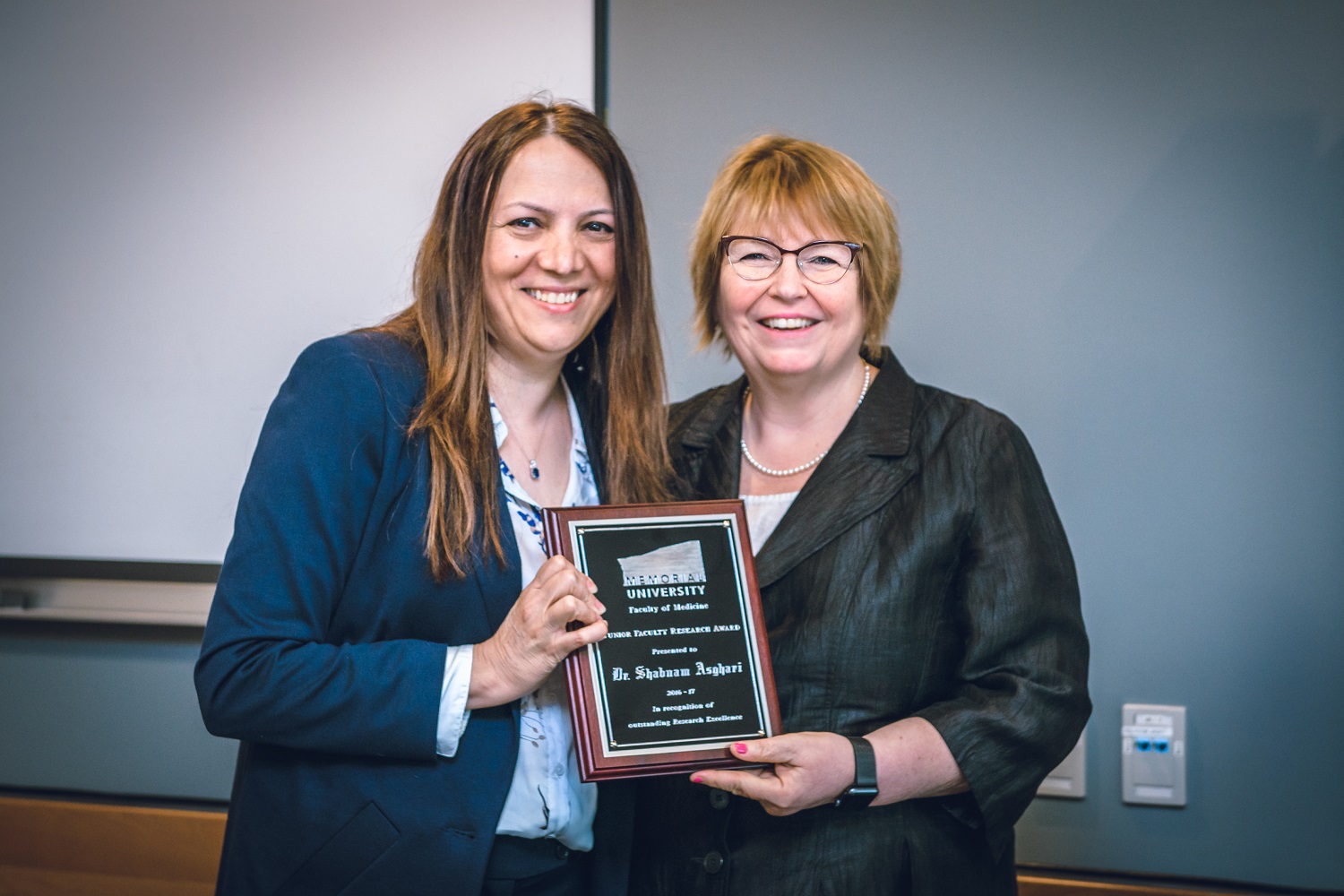 Junior Faculty Award – Clinical
Dr. Shabnam Asghari (MD, MPH, PhD) is an associate professor with the Discipline of Family Medicine, the research director for the Centre for Rural Health Studies, and a member of the Primary Healthcare Research Unit. The focus of much of Dr. Asghari's research is the improvement of health care in rural and remote communities. She is a member of the core team that has conceptualized, designed and delivered the '6for6' program, a unique and internationally-recognized faculty development program that encourages and supports rural physicians to conduct locally-relevant research through a
six-weekend curriculum grounded in educational principles.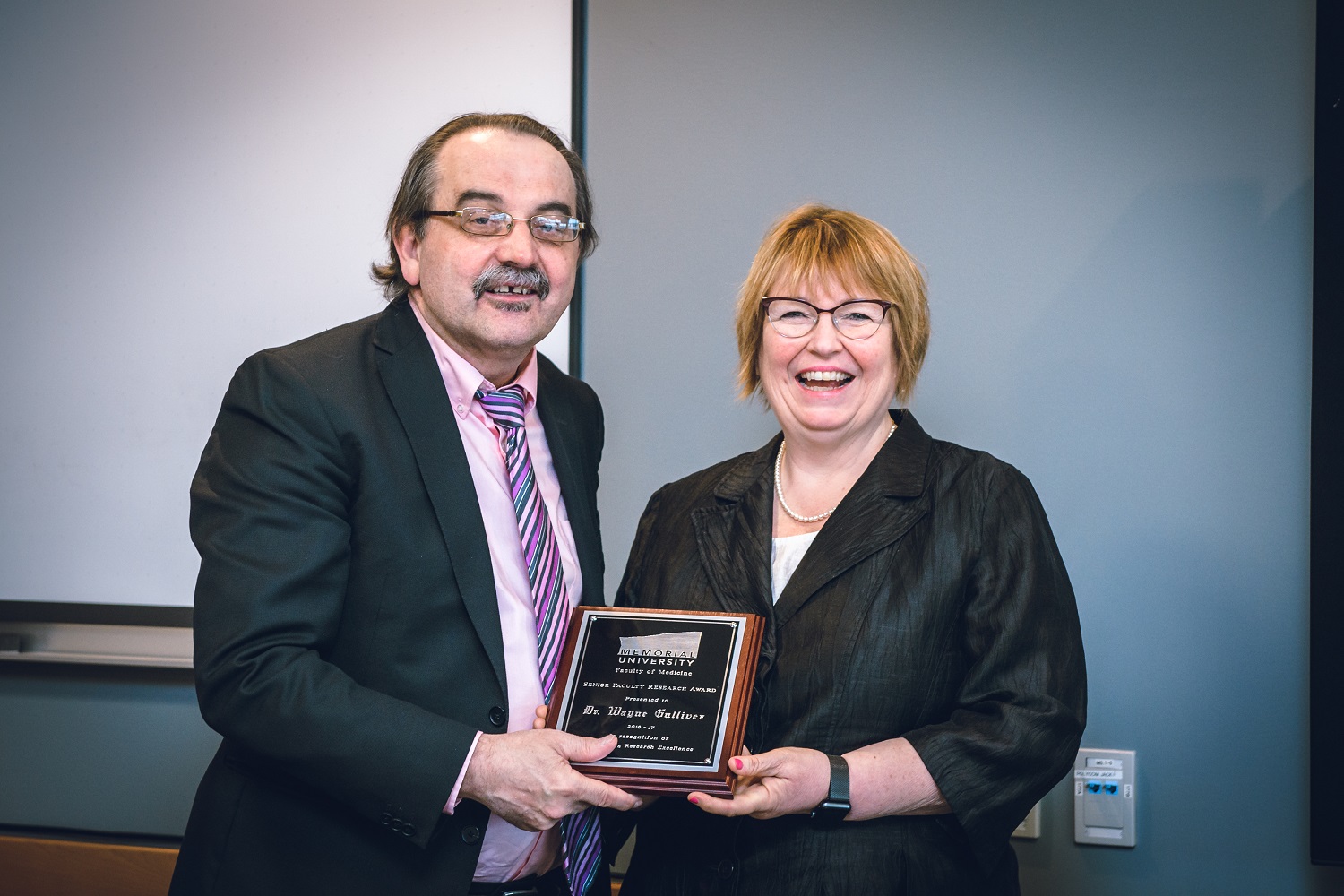 Senior Faculty Award – Clinical
Dr. Wayne Gulliver is a professor of dermatology and medicine at Memorial University. He joined Memorial in 1989 and since that time has held both educational and administrative positions, serving as the Chair of Medicine as well as the Chair of Dermatology during his tenure. In addition to his appointments at Memorial, he is also an adjunct professor at Henan University of Traditional Chinese Medicine and Zhengzhou University, China and is a past member of the Governing Council of the National Research Council.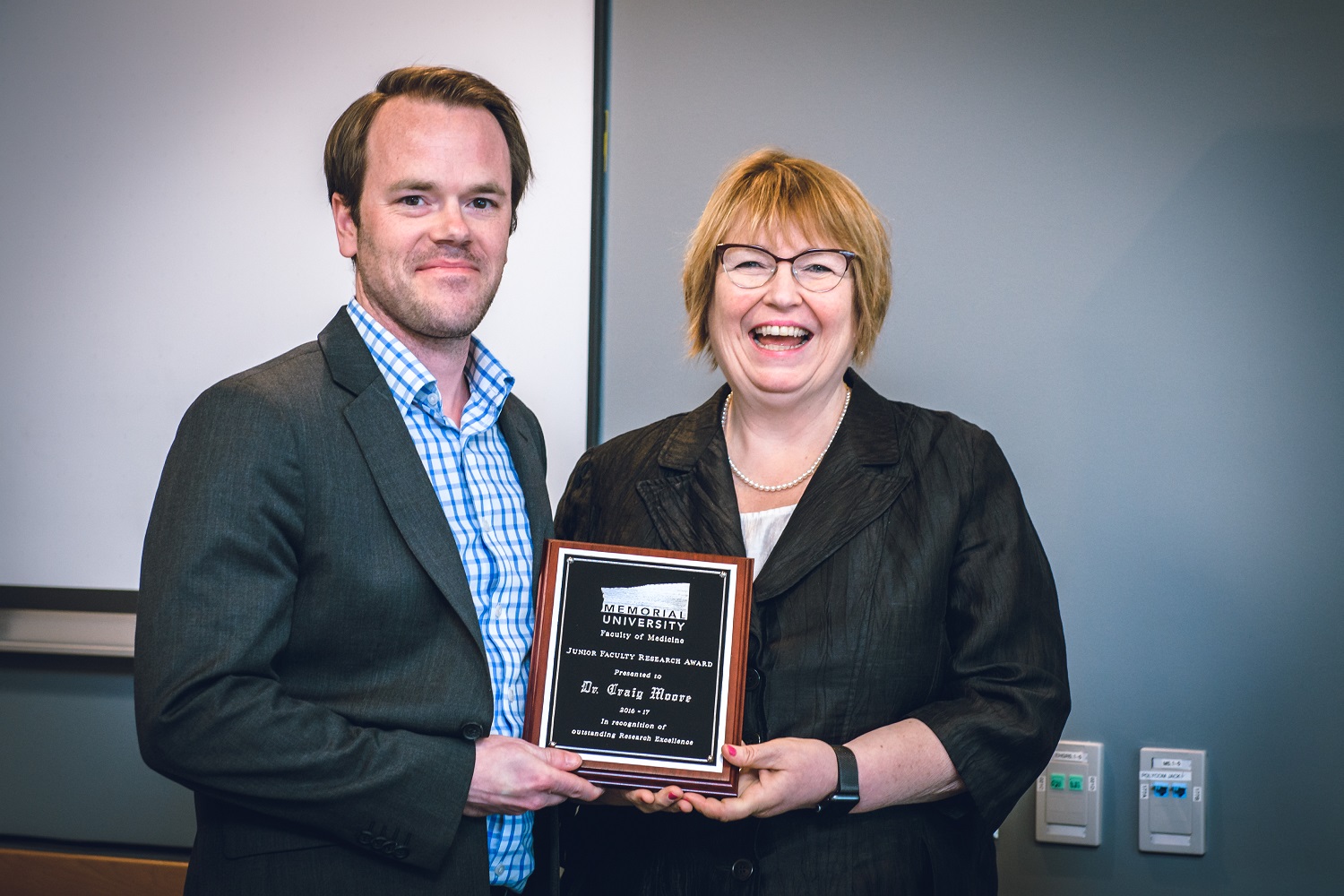 Junior Faculty Award – Non-Clinical
Dr. Craig Moore joined the Division of BioMedical Sciences in June of 2014 as an Assistant Professor and Canada Research Chair (Tier 2) in Neuroscience and Brain Repair and is cross-appointed to the Discipline of Medicine (Neurology) in the Faculty of Medicine at Memorial University.
Senior Faculty Award – Non-Clinical
Dr. Michael Grant joined the Division of Basic Medical Sciences (now BioMedical Sciences) at Memorial University in 1995, utilizing a newly constructed level 3 biohazard facility in the division to establish an interdisciplinary research program studying the immunology of human immunodeficiency virus (HIV) infection. Aside from his research-related achievements, Dr. Grant is known as an incredible mentor to the students who train with him.
DEAN'S EXCELLENCE AWARDS – SERVICE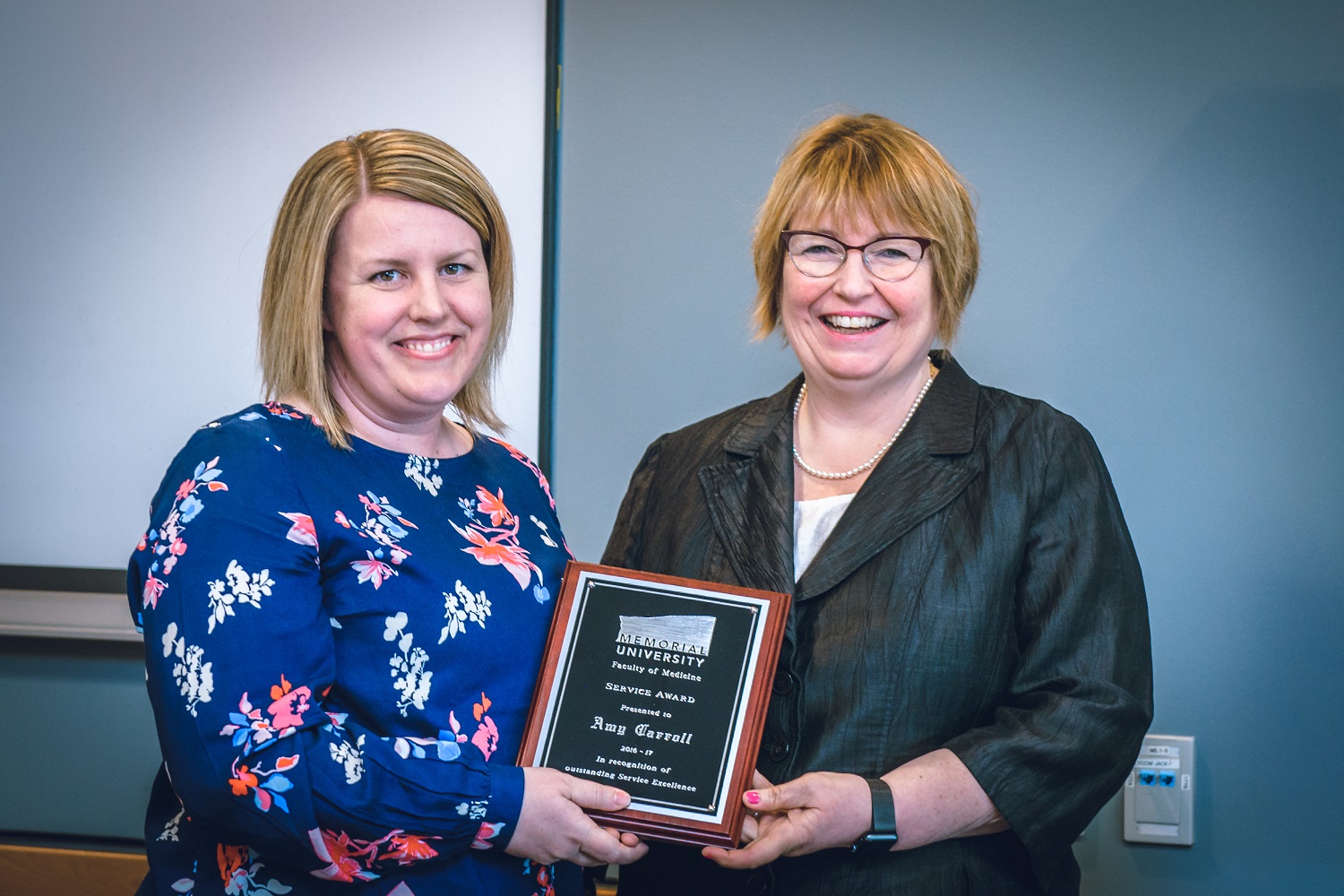 Service Award – Management
Ms. Amy Carroll Ms. Carroll oversees the management of the Research and Graduate Studies office, coordinates funding for over 100 graduate students per year, as well as assisting with their travel paperwork. She works tirelessly to ensure that the graduate students in our Faculty are tended to and have the proper resources to pursue and complete their graduate studies. Ms. Carroll demonstrates an extraordinary level of dedication to the graduate students in the Faculty of Medicine and is often described as a person who has been integral to their success.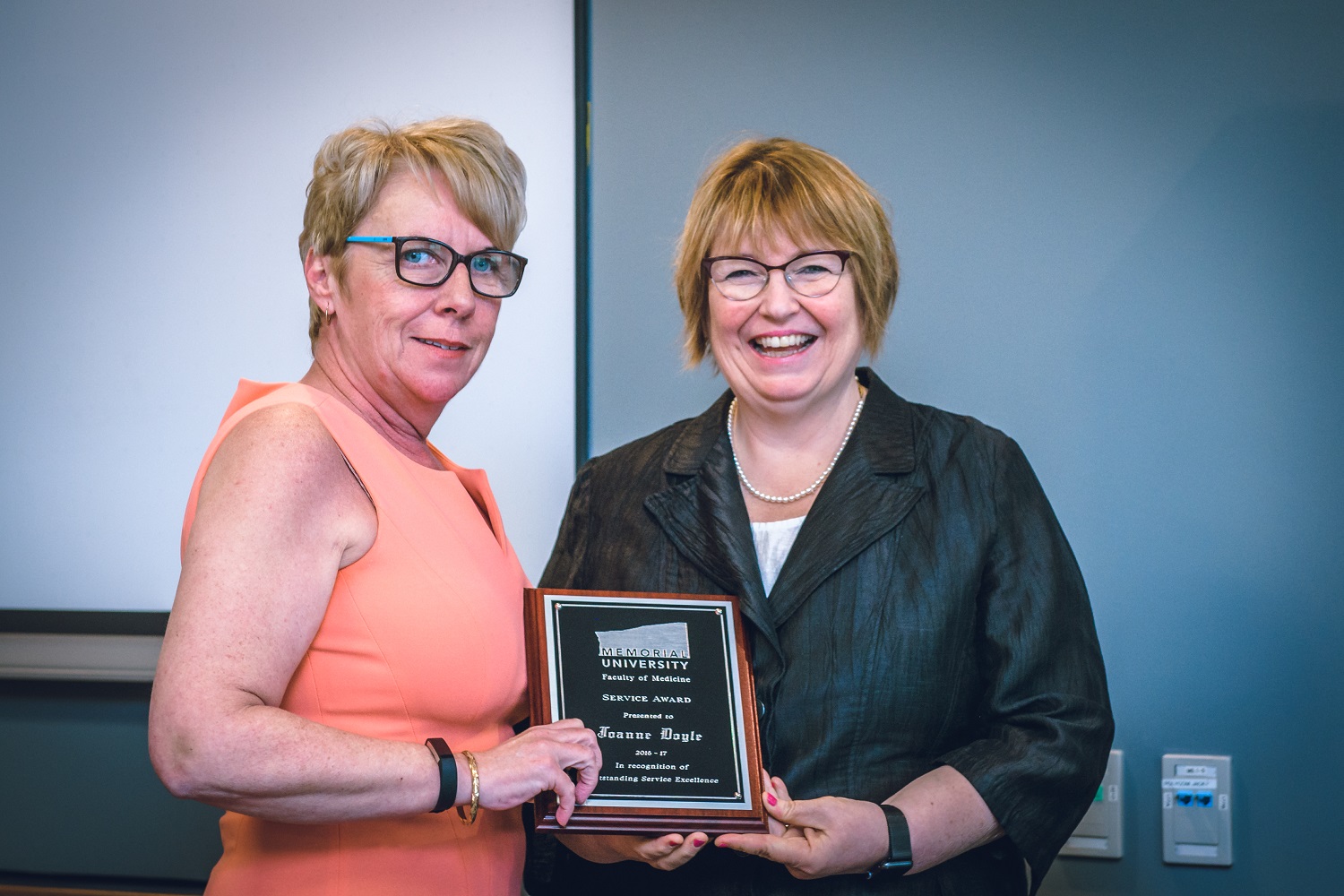 Service Award – Administrative
Ms. Joanne Doyle began her career with Memorial University's Faculty of Medicine in 1989 and is currently the senior secretary in the Discipline of Emergency Medicine where she has worked since 2012. Ms. Doyle is responsible for providing administrative support to the Chair of Emergency Medicine and other faculty members with academic and research-related activities. She is known as a hard-working, dedicated, and versatile employee who is willing to offer assistance to faculty members in her discipline.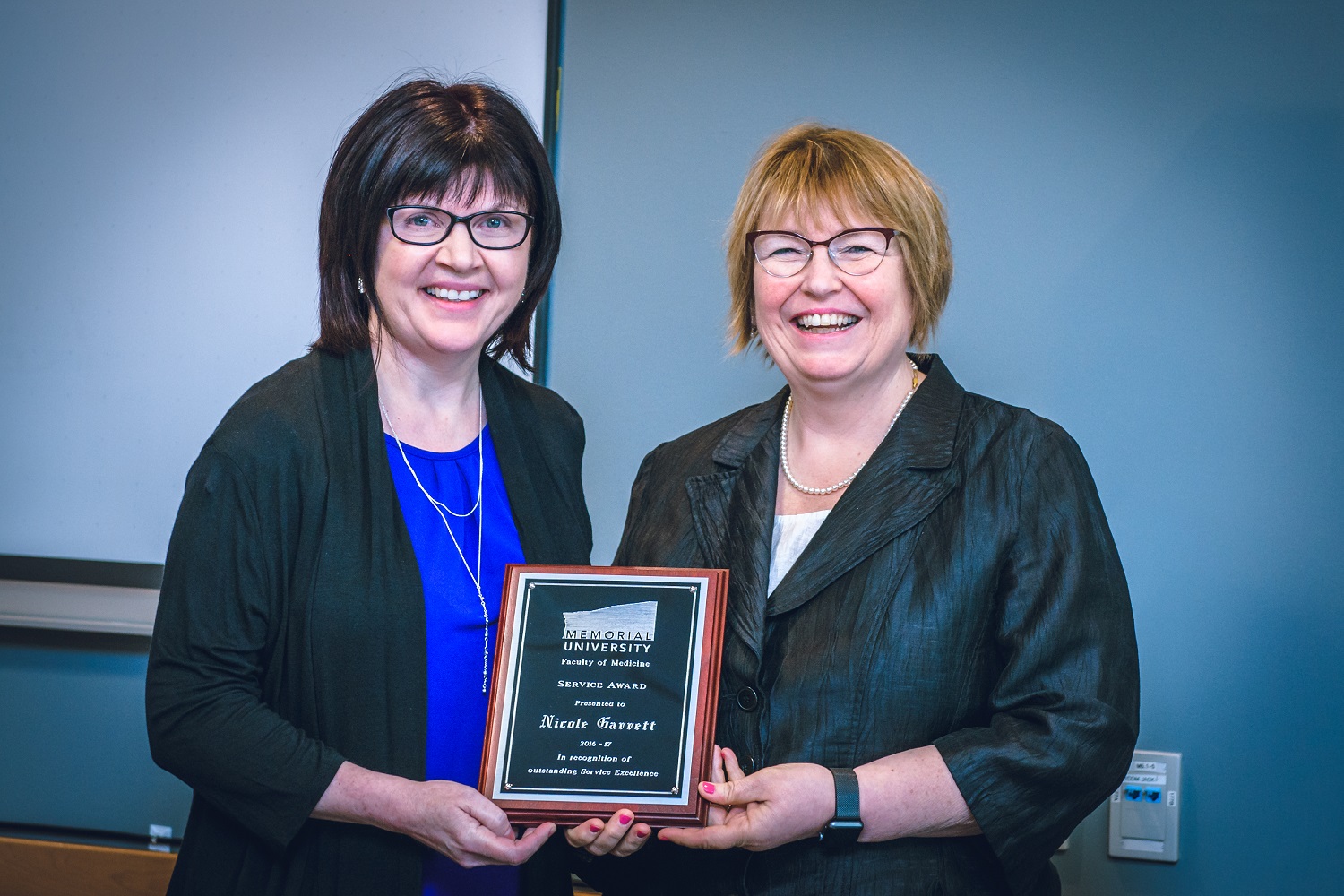 Service Award – Technical
Ms. Nicole Garrett works in the Research Support Facility where she provides support to laboratories within the Faculty of Medicine. In her role, Ms. Garrett is involved in all aspects of maintaining services to laboratories and has contributed to the day-to-day operation of many biomedical and genetics laboratories over the years. Roles such as Ms. Garrett's are integral to the successful functioning of the Faculty of Medicine.
Max House Teaching Award for CME/CPD
In 1985 Dr. Roger Butler joined the Faculty of Medicine at Memorial as an assistant professor, and in 1991 began his position as an associate Professor, where he has taught ever since. He has developed the Memorial Family Medicine Geriatric curriculum and chairs the third year enhanced skills program which he helped develop. Dr. Butler is instrumental in providing education to physicians, other healthcare professionals and residents/students that aligns with the initiatives of the World
Health Organization in advancing the state of knowledge about how ageing impacts public health, health care in old age, and gerontology. In all of his educational
initiatives, he focuses on the process of healthy ageing and the promotion of longterm health adopting community-based approaches by emphasizing the community
as a key setting for interventions, taking into account that many health problems need to be dealt with outside the health sector and respecting and understanding
ethical issues related to health and wellbeing in old age.