Scent-Free Program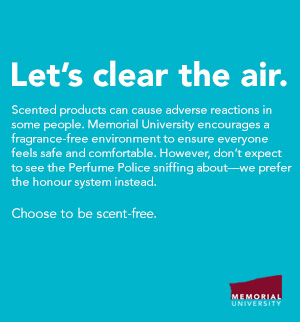 The Faculty of Medicine's Scent-Free Program is a co-operative effort by Facilities Management and Occupational Health and Safety to remind faculty, staff, students, and visitors that all facilities within the Faculty of Medicine are scent-free.

Use of scented products in Faculty of Medicine facilities is to be avoided.
The scent-free program is in effect at all times, even when the workplace is closed for business.

What do we mean by scents?

When we talk about scents, we mean fragrances, aromas or perfumes – anything that adds smell to something.

Scented products most commonly used include:

• Personal hygiene products (e.g., shampoos, conditioners, hairsprays, deodorants, colognes, after-shaves, fragrances, perfumes, lotions, soaps, cosmetics and creams)
• Air fresheners (e.g., deodorizers, potpourri, oils and candles)
• Industrial and household chemicals and cleaners;
• Various household products

Can scented products cause health problems?

Exposure to scented products can negatively impact a person's health. Even in the smallest amounts, scents can trigger a response in those individuals with scent sensitivities or other serious medical conditions. Reported symptoms associated with exposure to scented products include but are not limited to:
• headaches
• migraines
• fatigue
• nausea
• asthma attacks
• loss of concentration
• sinus congestion
• skin irritation
• loss of coordination

Symptom severity can vary, ranging from mild irritation to incapacitation.
Why can scents negatively impact a person's health?
The Canadian Lung Association indicates that the harmful effects of scented products are not actually caused by the smell itself, but instead the chemicals used to produce the smell. It is estimated that there are more than 3,000 chemicals used in the manufacturing of fragrances with individual products containing dozens or even hundreds of fragrance-related chemicals. Many chemicals that are used in scented products have been identified as toxic or hazardous at sufficiently elevated exposures. Even products labeled 'fragrance-free' or 'unscented' may contain toxic chemicals used to mask the smell of certain ingredients.
What can I do to promote a scent-free environment?
• Be considerate of individuals who may be sensitive to scented products
• Be aware of the types of products you use that are scented
• Choose alternatives to scented products
• Do not wear or bring scented products to work
Scent-free alternatives to commonly used scented products:

Laundry products

Nature clean brand (available at bulk barns & health food stores); Tide Free;
President's Choice Ultra

Hair Care/Soaps

Nature Clean brand (available at bulk barns & health food stores); Cliniderm
Shampoo; Mary Kay Hair Gel; Marcelle Shampoo; KMS Puritives

Lotions/Creams

Lubriderm Unscented; Marcelle face cream; Almay Face cream; Clinique; Noxzema (sensitive skin & fragrance free); Neutrogena face cream

Deodorants

Marcelle (roll on); Degree (fragrance free); Right Guard Sport (Unscented)
Shaving Products Body Shop for Men Aftershave Gel