History of DME at Memorial
Memorial University Faculty of Medicine has been offering rotations in distributed sites since the 1970s and has been a hallmark of the undergraduate medical education (UGME) program at the Faculty of Medicine since. Distributed medical education has grown to include postgraduate medical education (PGME).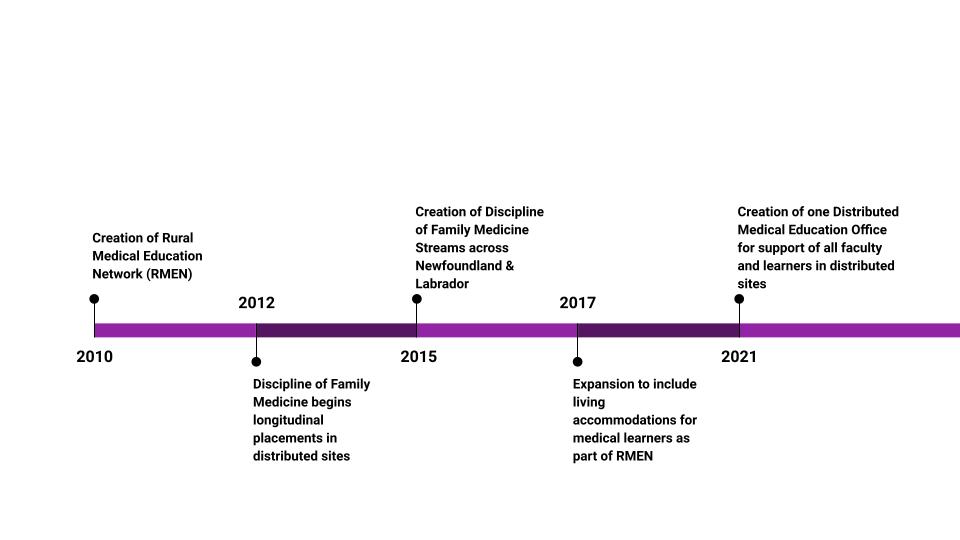 Distributed Medical Education oversight was formalized in 2010 with the creation of the Rural Medical Education Network (RMEN) office, to enhance distributed learning by providing increased opportunities for physicians to become an integrated part of medical education, to have responsibility for the administration of the MD and residency training, and to contribute to scholarship in education. Rural and remote clinical rotations are built into the UGME curriculum during pre-clerkship and clerkship, including a mandatory rural family medicine core rotation and a rural selective.

As distributed teaching sites continue to grow, there has been an increase in the number of Royal College community/rural placements as part of residency. Distributed medical education was further solidified in 2015 with the creation of Discipline of Family Medicine's Streams program, which provided residents with two years of longitudinal training in a rural and remote site.