2019 awards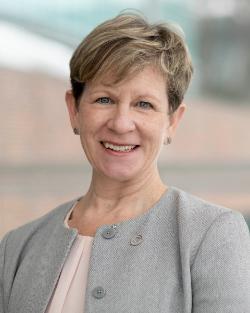 Junior Faculty Award – Clinical: Michelle Ploughman
Dr. Ploughman is Associate professor of Medicine at Memorial University, St. John's NL and Canada Research Chair in Neuroplasticity, Neurorehabilitation and Brain Recovery.
She is a physiotherapist, a neuroscientist and a recognized expert in neuroplasticity and neurorehabilitation in stroke and multiple sclerosis. Located at the Miller Centre in St. John's, NL, Dr. Ploughman's Recovery & Performance Laboratory provides a superb training ground for Canada's next generation of scientists and research-minded clinicians. Her research focuses on the effects of brain stimulation, aerobic exercise, intensive training paradigms and lifestyle habits on the brain challenged by injury, disease and aging. Her work is published in journals such as Stroke, Neuroscience, Brain Research and Archives of Physical Medicine and Rehabilitation.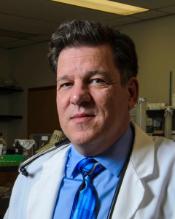 Senior Faculty Award – Clinical: Chris Kovacs
Dr. Christopher Kovacs is University Research Professor, and Professor of Medicine (Endocrinology and Metabolism), Obstetrics & Gynecology, and BioMedical Sciences, at Memorial University of Newfoundland.
He trained at Queen's University, University of Alberta, Harvard Medical School, Massachusetts General Hospital, and University of Melbourne. His practice involves osteoporosis and general endocrinology. His research focuses on bone metabolism during pregnancy, lactation, and fetal development.
Among numerous awards for research accomplishments, he received the Gold Medal in Medicine from the Royal College of Physicians and Surgeons of Canada, the Dr. Harvey Guyda Educator of the Year Award from the Canadian Society of Endocrinology and Metabolism (CSEM), and Young Investigator Awards from the American Society for Bone and Mineral Research, Advances in Mineral Metabolism, and CSEM. He has served on the Institute of Medicine, NIH study sections, and CIHR panels. He has been a consultant to the CDC, CADTH, and Health Canada. He has over 120 research papers, 42 textbook chapters, and 26,100 citations. He conceived and edited the multi-authored textbook, Maternal-Fetal and Neonatal Endocrinology: Physiology, Pathophysiology, and Clinical Management.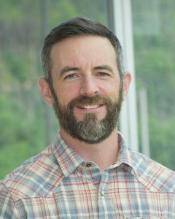 Junior Faculty Award – Non-Clinical: Matt Parsons
Brain cells communicate with each other on a millisecond timescale using a chemical known as glutamate. Glutamate is not only essential for cellular communication in the brain, it is also necessary for the formation of memories. Glutamate is capable of shaping who we are as individuals, as dementia can result from glutamate dysregulation in the brain. If glutamate levels are too low or even too high, brain cell communication suffers and eventually, brain cells die. Dr. Parsons' lab studies how the healthy brain manages to keep glutamate levels in this sweet spot, and how these regulatory mechanisms go awry in diseases of the nervous system like Alzheimer disease and Huntington disease. Research in his lab has received funding from various sources, including CIHR, NSERC, CFI, Brain Canada, Alzheimer Society of Canada, Huntington Society of Canada, Suncor and Epilepsy NL.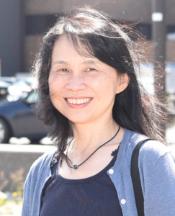 Senior Faculty Award – Non-Clinical: Michiru Hirasawa
Dr. Michiru Hirasawa is a Professor of BioMedical Sciences (Neurosciences).
Her research lab's goal is to understand how the brain responds to disruption in homeostasis, such as high fat diet and sleep deprivation because the brain is responsible for detecting homeostatic challenges and countering them with autonomic and behavioral responses. Specifically, the hypothalamus regulates homeostasis, and thus investigating how neurons and glial cells (non-neuronal cells) in the hypothalamus work under normal (balanced) and unbalanced conditions will help us understand how homeostasis is maintained. Her lab has been funded by both CIHR and NSERC, as well as the Foundation for Prader-Willi Research and the Medical Research Foundation.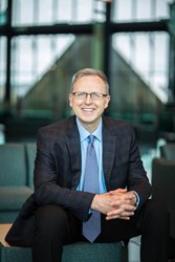 Junior Teaching Award: Simon Kirby
Dr. Simon Kirby is an Assistant Professor and Program Director of Laboratory Medicine (Pathology). He is a triple board certified physician (ENT, facial plastic surgery and anatomic pathology). His undergraduate education was in electrical engineering. Dr. Kirby speaks/writes/consults widely on subjects including Head & Neck pathology, medical education, health care quality/technology, and physician wellness.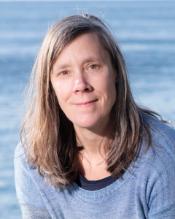 Senior Teaching Award: Ann Dorward
Dr. Ann Dorward is an Associate Professor of BioMedical Sciences and the current Associate Dean for Graduate Studies in the Faculty of Medicine. Ann's biomedical research interests include molecular pathways for ovarian development and their relationship to genetic contributions to ovarian tumour susceptibility, as well as the generalizability and clinical value of endogenous photosensitizers for fluorescent detection of tumour cells. In terms of educational research, Ann is collaborating with a team in the Faculty of Medicine to explore medicine program graduate student experiences and perceptions of their professional identity.
As an instructor, Ann enjoys teaching physiology and human development to undergraduate science and medical students, and teaching cancer biology and biomedical techniques to medicine graduate students or oncology fellows. As part of her Associate Dean role, Ann is focussed on resource development, academic unit planning and the mission of Destination Excellence with special emphasis on graduate learners in the Faculty of Medicine.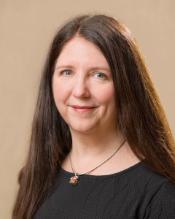 Max House Teaching Award for CME/CPD: Kara Laing
Dr. Kara Laing has been involved with several continuing professional development CPD activities over the course of her career, including Oncology Grand Rounds, General Practitioner in Oncology teaching rounds, planning and presenting at provincial cancer educational conferences, developing online courses, the Atlantic Canada Oncology Group educational meetings, and the Canadian Association of Medical Oncologists annual scientific meetings, CPD activities and executive.
She is a member of the Council of the Royal College of Physicians and Surgeons of Canada (RCPSC) where she is the new Regional Advisory Committee chair for Atlantic Canada, and a member of the RCPSC Professional Learning and Development Committee. In 2019, Dr. Laing received the Canadian Certified Physician Executive Designation from the Canadian Society of Physician Leaders. Dr. Laing is recognized as a mentor for learners and colleagues and she also sits on the Clinical Trials Committee for the Canadian Clinical Trials Group.
Dr. Laing received her MD from Memorial University of Newfoundland in 1993, completed Internal Medicine Residency at Memorial in 1996, Medical Oncology Residency at the University of British Columbia in 1998, and a Research Fellowship at Queen's University in 1999. She is a Medical Oncologist within the Cancer Care Program and has more than 20 years of experience as an educator, clinician, leader, and researcher. As Professor and Chair, Discipline of Oncology, Faculty of Medicine, Dr. Laing teaches undergraduate and postgraduate learners, graduate students, allied health care professionals and colleagues. She has a passion for lifelong learning, having completed a Certificate of Medical Education from Memorial University in 2012, and is currently completing a Masters in Medical Education at the University of Dundee.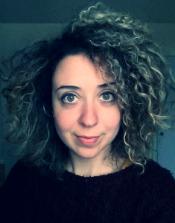 Service Award – Managerial: Jacinta Reddigan
Ms. Jacinta Reddigan is responsible for leading the development, preparation and revision of academic and non-academic policies, procedures, and guidelines for all units within the Faculty of Medicine. Through her collaboration with Faculty of Medicine leadership and stakeholders, Ms. Reddigan sets policy priorities for the faculty and continually reviews the effectiveness of existing policies and procedures. In addition to her policy portfolio, Ms. Reddigan has also taken on leadership roles in the development and implementation of new programs and processes regarding mentorship, clinical faculty promotion and tenure, and professionalism. She is known as a hard-working and dedicated employee whose role is integral to the successful functioning of the Faculty of Medicine.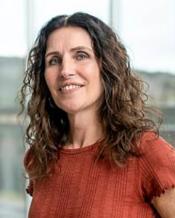 Service Award – Administrative: Janet Bartlett
Over the course of her career, Ms. Bartlett has held many roles. From 1987 to 2019, she worked in the Division of Community Health and Humanities, Faculty of Medicine; however, from 2004 up to her retirement in September 2019, her primary capacity entailed acting as the program coordinator of community health for the undergraduate medical education program. In this role, Ms. Bartlett worked in collaboration with program coordinators, course chairs and administrative staff and her responsibilities encompassed all aspects of developing and implementing courses. Her in-depth knowledge and understanding of the undergraduate curriculum, as well as the social dimensions of health, illness, medicine and community enabled her to be a key contributor to the development of the program.
A life-long learner, Ms. Bartlett completed a BA in psychology in 2009, an honours degree in 2012, a M.Sc. (Medicine) in 2015, and became a Fellow of the School of Graduate Studies. Her research on medical student distress was published and many of the recommendations for student well-being have been implemented. For her years of service and commitment, she received the President's Award for Exemplary Service.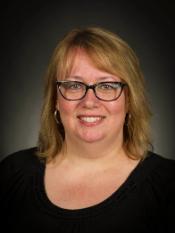 Service Award – Technical: Corrine Mercer
Corinne Mercer graduated from Memorial University with a Bachelor of Science in Biochemistry in 1995. Since then, she has performed different roles within the Faculty of Medicine over her 21 year career. She began her work first as a Research Assistant in the Terry Fox Labs in the Division of BioMedical Sciences where she worked with cancer researchers and helped supervise many graduate students for 19 years. Following this, she was a Medical Technologist for 2 years in the Histology Unit in the Medical Laboratories unit. Since 2017, Corinne moved to a position in the Multidisciplinary Labs of Medical Laboratories. For almost two years she has worked solely in this unit to incorporate new technology (such as ultrasounds and 3D anatomy table) into medical curriculum and research, which lead to her nomination for this award.