MCAT
In order to be eligible to apply to the Doctor of Medicine Program, the MCAT must be written on or before August 20, 2022.

Scores older than 5 years from the deadline date (prior to September 1, 2017) are expired and not accepted.

The Admissions and Interview Committees reviews all writings of the MCAT and considers score improvements; applicants must release all test scores to Memorial University, as described below. The AAMC DOES NOT automatically release MCAT scores to schools unless directed by the applicant. The applicant must log in to their AAMC account to release their score the schools to which they are applying. The deadline to release scores for the 2022- 2023 application cycle is Friday, September 23, 2022.

MCAT Directions
Log in to your AAMC account.
Under the My Reports tab, click "Send Scores Electronically".
Select the institutions to which you are applying to release your score(s). For Memorial University, select "Memorial University of Newfoundland Faculty of Medicine" as indicated below.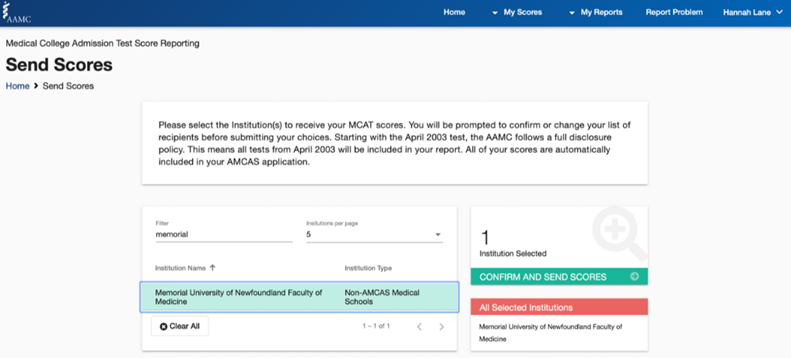 For previous entering classes, the average MCAT score is 505-507 within the Newfoundland and Labrador pool, with section scores being between 125-128.

The fee to write the MCAT exam is $320 USD. Applicants experiencing financial difficulty may qualify for a fee reduction via the Association of Faculties of Medicine in Canada (AFMC) or via the Canadian fee assistance program at AAMC: MCAT Fee Assistance Program for Canadians. Please note that applicants seeking financial assistance must be approved for the Fee Assistance Program prior to registering for the exam to receive reduced registration fees. Benefits of fee assistance are not retroactive; reimbursements are not issued after registration and scheduling of the exam.