IPE Progams
The curriculum framework for Memorial University's interprofessional education program was formulated in keeping with the fundamental principles and concepts of interprofessional education, collaborative practice, and adult education. The framework is driven by the interdependent nature of interprofessional education and collaborative practice with mandatory clinical learning experiences in collaborative practice settings as a key element. The overall approach supported by the framework is one of exposing students to elements of interprofessional education at an early stage in their training, which are continually revisited throughout the learning continuum with regular reinforcement. Horizontal integration of interprofessional education across the professional curriculum of each participating academic unit ensures that core instructional outcomes for each profession remain intact while acting as an enabler for the recognition of common learning outcomes and professional competencies within and across curricula.

Not all the identified activities in the framework below are implemented by CCHPE (see for example, the Interprofessional Games Day organized by the College of the North Atlantic) or are even offered at all (see items appearing in italics). However, we recognize the potential and need for a conceptual framework that organizes the IPE opportunities that exist here in Newfoundland and Labrador. The italicized IPE activities below were conceptualized by CCHPE in partnership with IPE stakeholders across multiple health/social care sectors.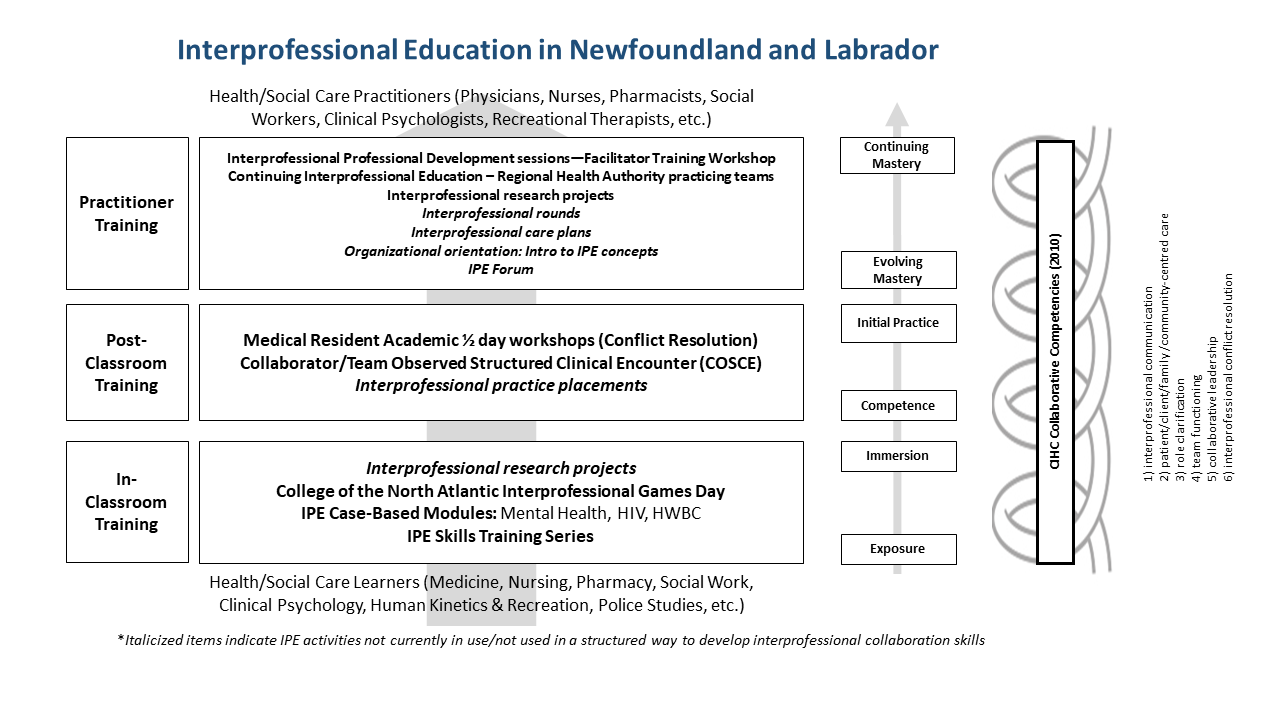 Undergraduate and Graduate Learning (In-Classroom)

CCHPE offers two major IPE programs for pre-licensure learners at Memorial - the IPE Skills Training Series and the Case-based IPE Learning Modules. Depending on their acadmic faculty/school, some learners may complete all the activities listed in both programs; others, only one.

IPE Skills Training Series

Case-based IPE Learning Modules


Clinical Learning (Post-Classroom)

The clinical setting is crucial for interprofessional learning. CCHPE does not currently offer curriculum at this level for clinical clerkships, practice placements, or residentcies, though we have in the recent past. We continue to consult with organizations who seek to implement their own IPE interventions in clinical settings with learners and practitioners. You can find our more about our previously-offered clinical IPE curriculum following the links below.