Purchase White Coats and Surgical Greens
White Coats
The White Coat Ceremony is a special event for all medical students in the first year of the Doctor of Medicine (MD) program. It is the first event after entering medical school that officially welcomes you into the medical profession as you become a healthcare leader in the community.
The official date for this year's event is not yet confirmed, as it will be dependent on the provincial Public Health guidelines of the learners return to campus. The Office of Learner Well-Being and Success will communicate with you directly to ensure you have ample notice and information surrounding the scheduling of this important event, as well as other important events in your first year of medical school.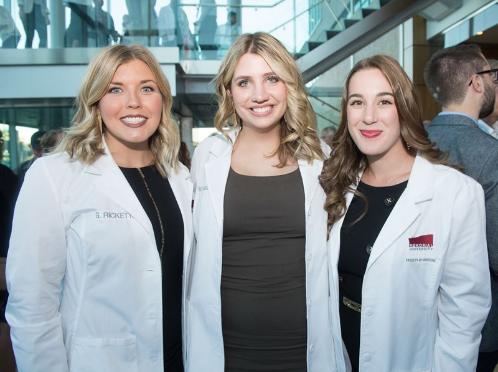 You should have your white coat purchased when you start Orientation. Arrangements will need to be made to have your coat embroidered before the White Coat Ceremony is held.
Your fellow medical students of other years will be able to guide you through this process, should you require any assistance. Please contact the MedSoc Committee members for further information!
You are welcome to purchase your short, white coat at the place of your choosing. Here are some suggested options (you may receive a discount at certain stores, with your Student ID/Letterof Enrollment):
PROFESSIONAL UNIFORM & MATS
Telephone: (709) 576-0794
Email: info@professionaluniforms.ca
205 Blackmarsh Road, St. Johns, NL
*Students receive a 10% discount.
THE UNIFORM SHOP
Telephone: (709) 576-2228
Email: info@uniformshopplus.com
320 Torbay Road, Fall River Plaza, St. John's, NL
*Students receive a 10% discount.
*For further options around purchasing uniforms, please feel free to consult with your MedSoc Committee and previous years' learners and class presidents. They will be able to provide valuable input and advice on the where and when of obtaining everything you need!
Surgical Greens
It is recommended that along with your white coat, you also buy a pair of comfortable and fitting surgical greens for your presence in the Operating Theatre/Room. Again, there is no urgency in obtaining these greens, but rather this is something you may want to keep in mind for once you begin your in-person education at Memorial. In previous years, Eastern Health was able to provide some greens for learners towear – but due to the unavailability of a wide selection of sizes, as well as the potential limitations due to Public Health Guidelines, we are not offering a selection of borrowed greens for learners at this time. Please consult with your MedSoc Representatives for their advice on how many you may need, where you can purchase them and any other questions you might have. You can also contact the Office of Learner Well-Being and Success with any other questions or requests you may have.
The Faculty & Staff of the Office of Learner Well-Being and Success
Room M2M115, 300 Prince Philip Drive St. John's, NL
Telephone: (709) 864-6333
Toll Free: 1-(877) 794-9740
Fax: (709) 864-6360
Email: lws@mun.ca