Improve SEO with metadata
In order for your page to rank well in search engine search results, a search engine like Google (or Memorial's own search bar) needs to know what your page is about.
Filling in the "metadata" fields for every page you create is a simple, quick, and effective way to tell search engines what your page is about. Every page on your website has a "metadata" section.
To fill in the metadata fields for a page, go to your site structure view and click on the page you want to add metadata to:

---
Click the "more tab" and then choose "metadata."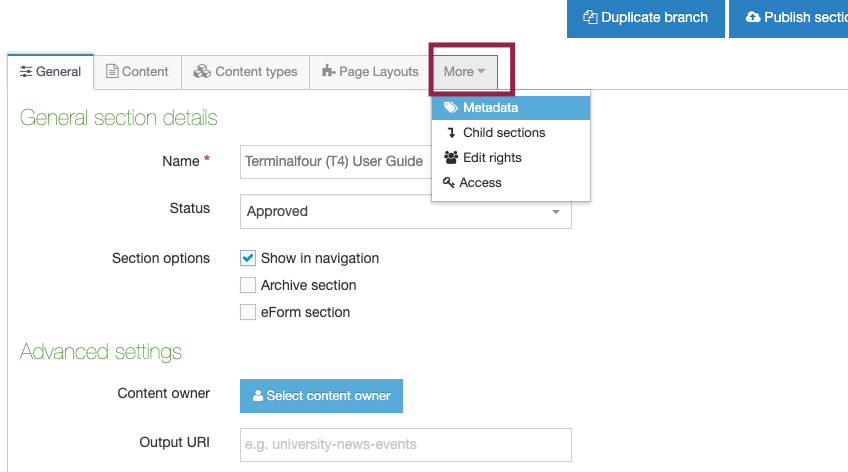 ---
You will know see all the metadata fields you can fill in for your page, including "description" and "keywords." These are the most important.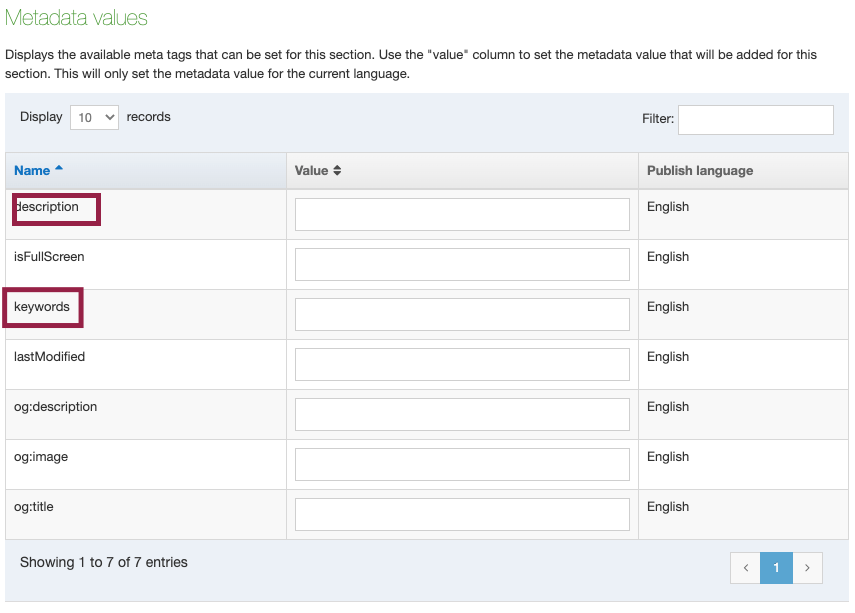 ---
The key fields here are description and keywords.
---

Metadata description field
Your metadata description is very important. While it doesn't have a direct impact on your SEO rankings, it allows you to 100% control the public-facing description of your page as it appears in search engine results. Its purpose is to convince someone using a search engine that your page is what they're looking for.

If you do not fill in your metadata description, a search engine will either omit a page description or grab a line from your page at random (generally the opening line of your page, which does not serve as a good or coherent description of your page). By filling in your metadata description you can ensure the search engine result preview of your page will be useful and convincing.
Tips for a good metadata description
Keep your description under 150 characters to ensure it isn't clipped off. Also, if it is too lengthy, Google may override it and not use it.
It should be one clear, short line. When looking through search engine results, no one has time to read long page descriptions.
It should be convincing. This is your one shot to make someone choose your search engine result over the dozens of others they have to choose from.
Stand out. If there's something that distinguishes you from similar search results (competitors), put it here.
Calls to action tend to perform well as metadata descriptions.
Try to use a primary keyword in your metadata description, because it would be ideal if whatever words someone has searched for happen to appear in your metadata description.
Make sure your metadata is accurate to what a visitor will find on your page. Misleading page descriptions lead to frustrated visitors and poor bounce rates for your page.
Here is a sample metadata description for a page about graduate programs: "Memorial University offers 11 world-class graduate programs in space travel, including course-based or research-based degrees."
---
Metadata keywords
The metadata keywords field allows you to enter all the keywords you have come up with for your page.
This is a simple, effective way to tell search engines exactly what your page is about, but try to limit this field to your primary keywords, so you don't dilute your primary keywords or confuse search engines about the main focus of your page.
List your keywords in this field, separating each keyword with a comma.
Example:
Engineering graduate programs, engineering grad degrees, engineering graduate programs in Canada.
---
Last modified
Search engines favour sites that have been recently updated, because it ensures they won't recommend an outdated site to their users. Use this field to input the date every time you update this page. This isn't especially important however, as Memorial's template is configured to communicate this information to search engines automatically.
---
OG fields (Open Graph Fields)
OG fields control how your page preview displays in social media platforms like Facebook and Twitter, as well as in text messages and other mediums.
The OG description lets you control the description of the page, the OG title let's you control the title of your page as is appears in your social media preview, and the OG image let's you determine the image that will be shared in your social media preview.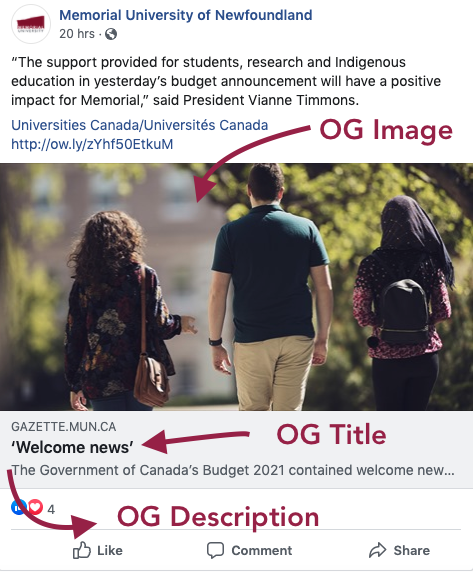 We are currently working on a seperate social media content type, but for now you can use the OG title and OG image fields here.