How to approve a contributor's changes
To approve or review a contributor's proposed changes to a page on your website:
Click the dropdown arrow across from "Content" on the left-hand side of your screen
Click "Approve content"

---
You will be taken to a screen that lists all content updates that are pending approval by a site moderator.
Note: You can use the "filter" field to search by user name or site title, to find pending changes by a particular user or on a particular site.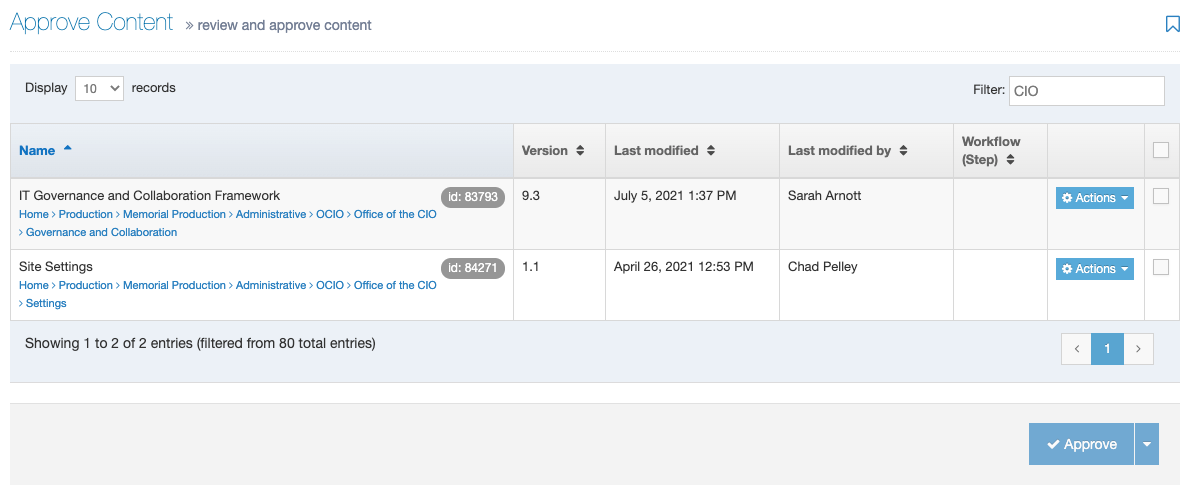 ---
To approve one of these changes, click the empty square across from the update and then click the blue "approve" button.
To approve ALL pending updates, click the empty "select all" square circled below, and then click the blue "approve" button. The "select all" square is in the grey area, at the very top of all the checkboxes.
---
This will trigger the pop up window shown below.
Click approve again to approve the changes.

Your pending updates are now approved.
---
Note: By default your pending approvals will show 10 at a time.
To show more pending approvals, use the dropdown menu circled below:

---
See also: