Improve SEO with hyperlinks
Search engines take note of any hyperlinks on your page, because hyperlinks let search engines know the kinds of additional, related content your page will provide to visitors.
Hyperlinking keywords or relevant related topics is another great way to improve your page's SEO. Example: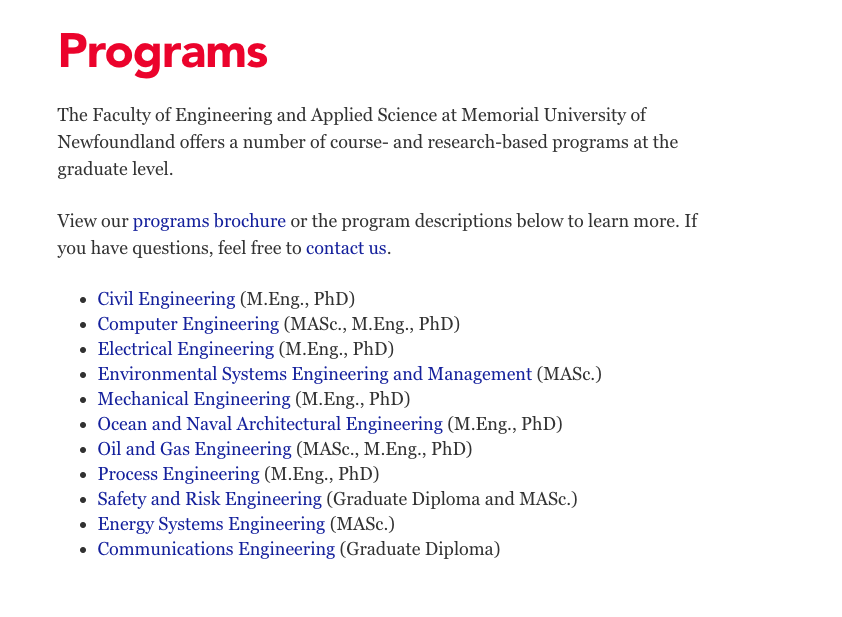 ---
While your links should be written in a clear and natural manner so site visitors know what you're linking to, whenever possible, you should place keywords on your page and hyperlink them.
Ideally, these would be keywords you haven't used in your URL, page title, or header tags.
In the example above, every graduate program for the Faculty of Engineering is hyperlinked giving this page 11 great and relevant keywords, because each of the linked programs — like civil engineering — is a possible keyword for this page, as well as a related topic of use to visitors.
---
Search engines favour pages with incoming links
Search engines like pages with a lot of links pointing to them as well.
For example, if you link to smaller internal page on your site's home page – or if, the faculty of science links to a page on the department of biology website – this improves the SEO of the page being linked to. In the simplest sense, a search engine can assume a page is good if there are many links directing people to it.
---
Hyperlinks can hurt your SEO score as well
Irrelevant hyperlinks can hurt your SEO score, as well as your user experience. If your page has links to content that is not relevant to the core content on your page, this will confuse and frustrate site visitors.
Similarly, when a search engine crawls your web page to determine what it's about and how useful it is to visitors, it will be confused when your page's links do not match up with your page's keywords. It will rank you lower because of this discrepancy. Because why would a page about engineering degrees link out to something like "where to eat in St. John's"?