Menu management
There are three types of menus you can create and edit in Memorial's standard website template:
---
Main Menu
Your main menu is the bar across the top of your page. It should be reserved for the main, broad sections of your site:

Important note on your main menu
Your main menu can display between 1-7 main menu tabs, and the number of tabs your main menu displays is set in your site settings.
If you choose to add a new main menu item, it will not display until you put in a request to change the number of main menu tabs your site is displaying. Likewise, if you remove a a section from your main menu, you should notify Web Content Services, so we can adjust your site settings. Otherwise your main menu will not fill the space atop your site properly.
Main menu management:
---
Left-hand links
(aka sub menu)
You can add left-hand links to any page on your site. Example: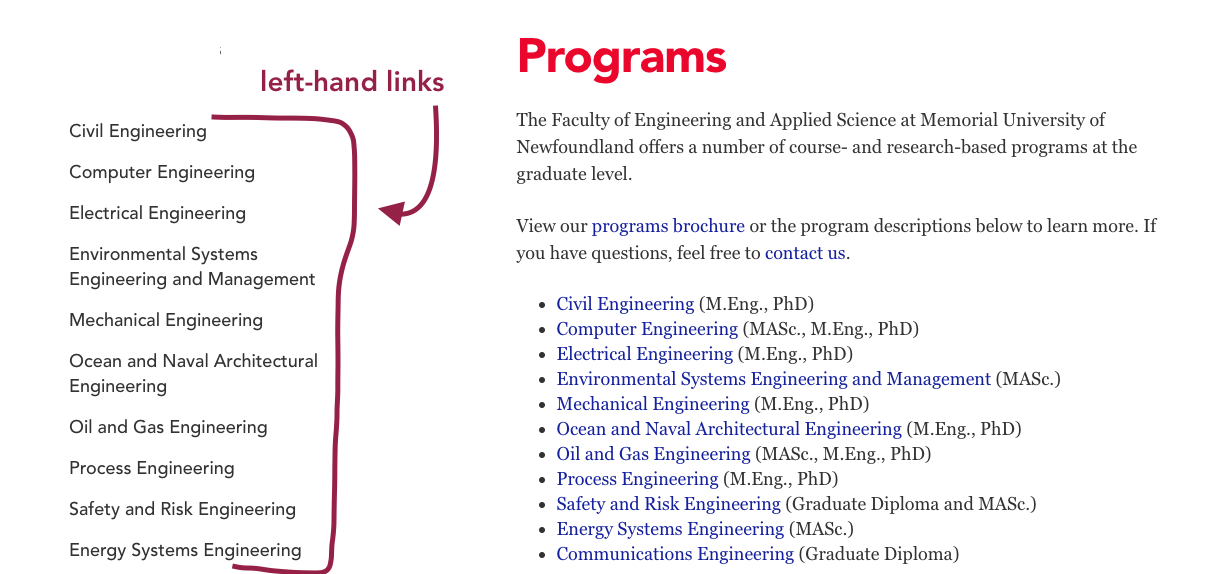 ---
How to use left-hand links
Left-hand links are generally used to divide the content on your page into increasingly specific subpages or related topics. For example, a page about graduate programs should broadly talk about grad programs in general, and then offer left-hand links to pages about specific graduate programs such as civil engineering, electrical engineering, mechanical engineering, and so on. This prevents excessive text on any one page, and makes it easy for a site visitor to find exactly what they're looking for.
But as you see in the example above, it is best practice to also include links to these pages in the body of your main section landing page, because left-hand links are not as visible or as obvious on phones and tablets. Left-hand links are a navigational tool used primarily by people viewing your page on a computer, not on a phone or tablet, and many site visitors will be using a phone or tablet. Having hyperlinks to these pages directly on your page will also improve your page's SEO.
Left-hand link management:
---
Call to Action Menu
A call to action menu is a special menu type generally reserved for your site's home page, because you cannot create left-hand links on your site's home page. The menu items appear as rectangular buttons in the left-hand column of your home page. Your call to action buttons will be the same colour as your site colour. Example:

Call to action menus are created using a T4 content type called "Content: Call to Action." You must contact Web Content Services to request the call to action content type be enabled on your site.
Visit the call to action section of this user guide to learn how to add a call to action buttons to your page.