Keep your content up to date with content reminders
If someone visits your site and sees content that is inaccurate or out of date, they may lose faith in the value or reliability of your website.
---
Content accuracy
The accuracy of your content is just as important than the content itself, because a site is quick to lose credibility when it shares misinformation. Be sure to:
Double check all facts and figures you place on your site.
Make sure your sources are reliable, authoritative and well-respected.
Make sure any facts or figures are fairly current.
Where appropriate, provide sources for any claims you make, such as "1 in 10 Canadian students use a campus food bank - Food Banks Canada."
Be sure to set content reminder dates on any content that would benefit from periodic revision. What you said in 2010 may sound completely outdated, politically incorrect, or plain untrue in 2020. This paragraph itself will sound outdated in two or three years for referencing 2020 as current.
Whether it's a list of departmental course offerings, a campus map or a list of Memorial stat holidays – everything will change in time.
Setting Content Reminders
T4 makes it easy to avoid having outdated information on your site by allowing you to easily set content reminders on pages that have time-sensitive information, such as deadlines in text or banner images, or the freshness of the latest news article showing on your site.
---
How to set a content reminder
Note:
When using direct edit, you'll need to click the "edit content" icon atop the content type you're working in to access the controls described in the instructions below:

---
When creating or editing content on a page, you are working within the "content" tab of whatever content type you're editing, as shown below: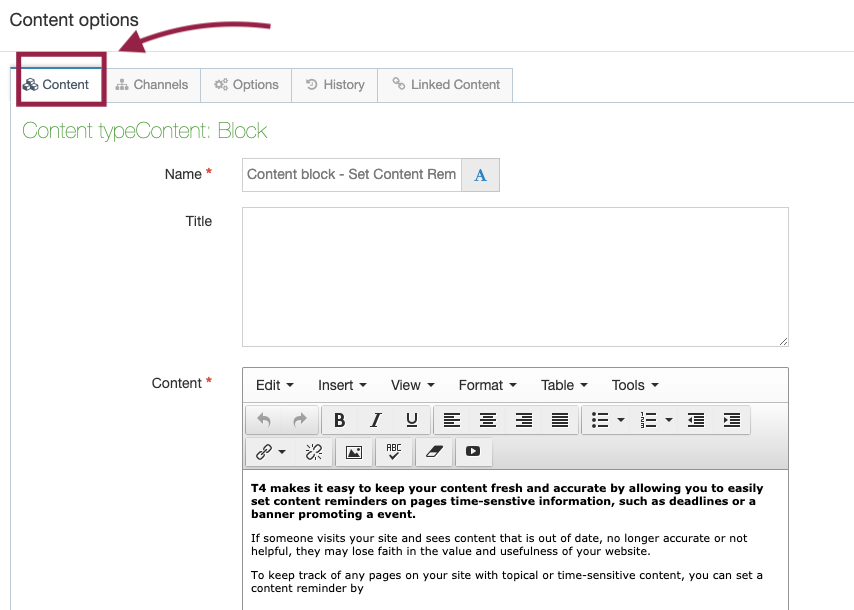 ---
If you click the "options" tab, you will see a field called "Review date."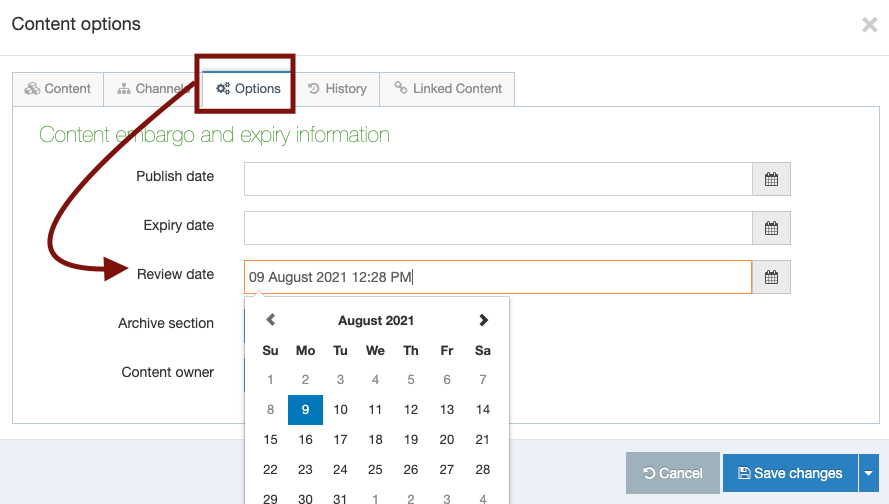 ---
With the "Options" tab selected, Click in the "review date" field.
A calendar will pop up, asking you to choose a review date. The review date is the deadline you're setting for yourself to update your content. To choose a date, click that date on the calendar. Use the arrow buttons to scroll forward in time and choose an upcoming month.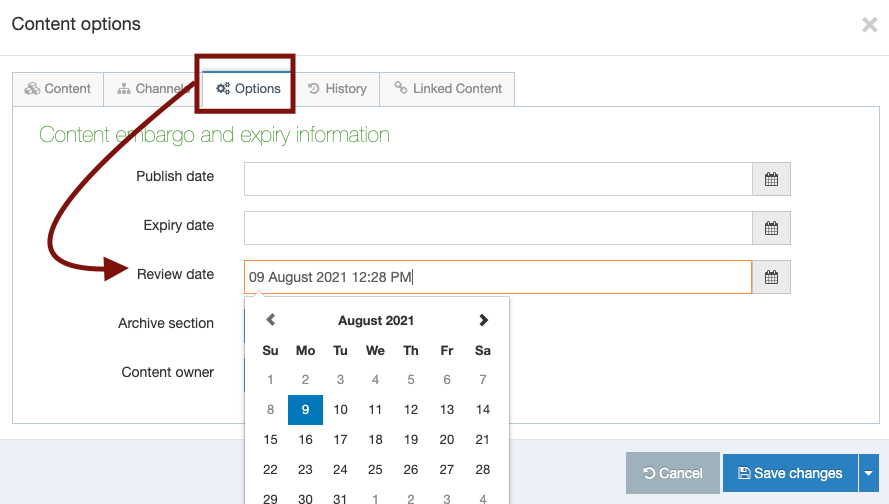 ---
Note: if you would like to go even further and set the time of the day you want to be reminded, click the clock icon shown here: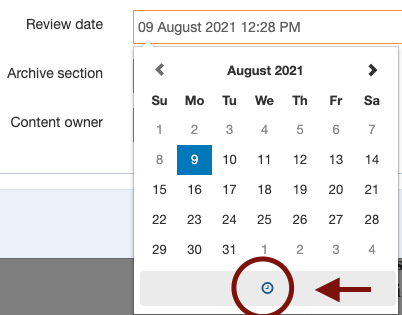 ---
Once your content reminder is set, don't forget to click save (or if you're a moderator, save and approve):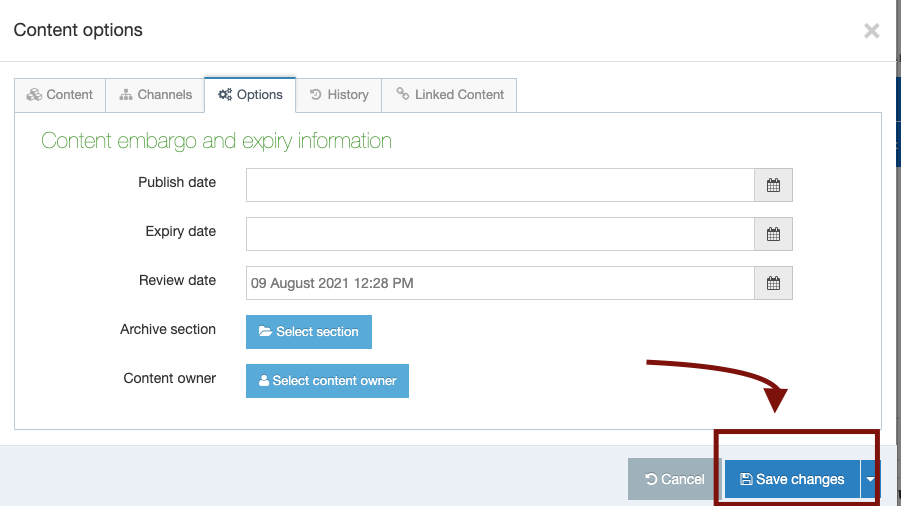 ---
Once your content reminder date is set, it will show up in two places in T4.
Note: the content reminders will not appear until two weeks ahead of the content needing to be updated/deleted.
Every time you log into T4, you will see the "Review date upcoming" table shown below. As a content reminder date approaches, you will see your reminders, as well as your fellow site contributors and moderators' reminders.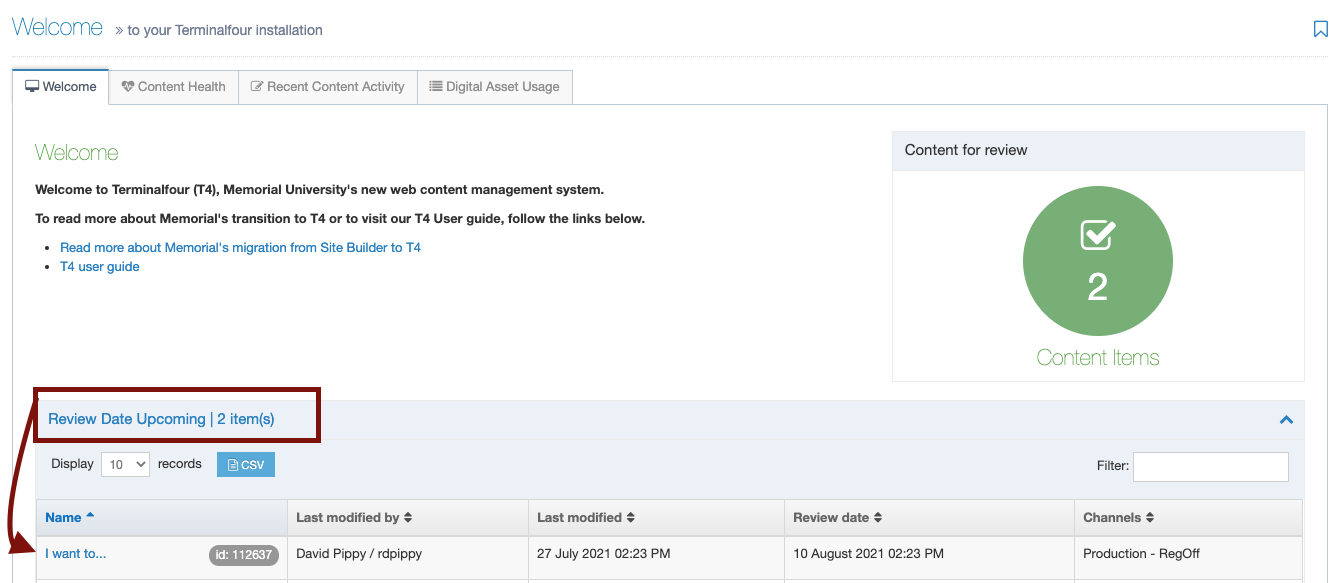 To update your content, click directly on the name of the content type, as shown by the arrow above. This will open the content type that needs to be updated.
---
Your "Content health" tab will also keep you aware of content with upcoming review dates: