Responsible supply chains
Oct 5th, 2021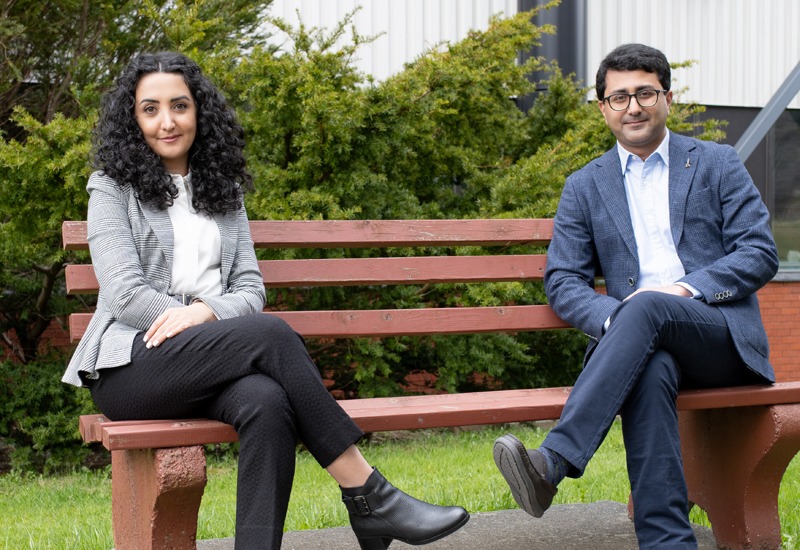 Responsible supply chains
Memorial's business faculty is bolstering its expertise in sustainability with two new faculty members who strive to advance responsible supply chain management.
Dr. Maryam Zomorrodi and Dr. Sajad Fayezi joined the Faculty of Business Administration earlier this year as an assistant professor and associate professor, respectively. They both teach and research in the areas of supply chain and operations management with an emphasis on sustainability and using business activities to achieve positive societal impact.
Dr. Isabelle Dostaler, dean, says these researchers can help Memorial produce graduates who can participate in and contribute to innovation in the field, thereby expanding the capacity of local businesses of all sizes to succeed in global markets.
"Supply chains are critical to the economic success of Newfoundland and Labrador," Dr. Dostaler said. "As much as we need qualified professionals to help local firms advance their operations, we must also contribute to the supply chain ecosystem through innovative research. Dr. Zomorrodi and Dr. Fayezi's experience and expertise will help us achieve both of these priorities."
Iranian roots, Australian experience
Supply chain management refers to the flow of goods and services within and between organizations, and a supply chain is a network of organizations involved in this process.
"Knowing that my passion and what I care about is an integral part of the university vision and mission was really encouraging." — Dr. Maryam Zomorrodi
The new faculty members both come to Memorial from Australia where Dr. Zomorrodi was a PhD researcher at RMIT University and a teaching assistant at Melbourne University.
Dr. Fayezi was an associate professor and discipline leader at La Trobe Business School in Melbourne before joining Memorial. Prior to this, he was an assistant professor and academic lead for multi-disciplinary masters' programs at Monash University, also in Melbourne.
They're both originally from Iran.
'Exciting and motivating'
Dr. Zomorrodi's research focuses on alleviating poverty through responsible supply chains. She was attracted to the business faculty's reputation as a leader in social enterprise.
"Knowing that my passion and what I care about is an integral part of the university vision and mission was really encouraging," she said, noting that the business faculty created Canada's first master of business administration in social enterprise and entrepreneurship (MBA-SEE).
"It was exciting and motivating to work in such an environment that is well aligned with my individual aspirations and capabilities. I felt that Memorial is a university I could work proudly with."
This reputation was also a factor for Dr. Fayezi. His research examines issues surrounding modern slavery, decent work and resilient supply chains.
"Sustainability is often perceived as a source of innovation, and my key contributions at the business faculty will be focused on using research to identify roadmaps and develop tools that facilitate sustainability-led supply chain transformations," he said.
"I also aim to contribute to our collective efforts to develop all-round, responsible leaders of the future who are well-prepared to transform the practice of management and design responsible enterprises," he added.
Advancing the Husky Centre
Sarah Teo, manager of the Husky Centre of Excellence in Sales and Supply Chain Management, says adding this research and teaching expertise to the faculty will help the centre achieve its vision and mission by increasing undergraduate coursework in supply chain management, expanding connections with industry and allowing for more work terms and internships to be developed.
"We're excited to work closely with Dr. Zomorrodi and Dr. Fayezi in educating our students and strengthening our relationships with industry," said Ms. Teo. "Through their work, and the activities of the Husky Centre, we'll be better able help develop a strong economic foundation for our province by contributing to ability of Newfoundland and Labrador suppliers to responsibly and successfully participate in global supply chains."