The Fund structure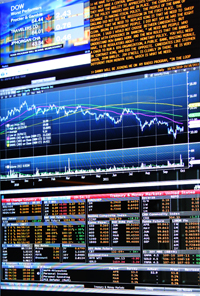 Our structure
Our team is comprised of three key student roles:
Portfolio manager

Our portfolio manager leads sector managers and analysts, under the guidanceand support of the faculty advisor, to manage The Fund. Our portfolio manager oversees weekly position reviews, quantitative portfolio analysis and guides the team's investment decisions.

Sector manager

Our sector managers guide and support the development of analysts research reports and to help analysts develop research, communication, and teamwork skills. Our sector managers work in cooperation with the portfolio manager to ensure quality research and to promote teamwork, collaboration, and constructive dialogue amongst our team members.

Analysts

Our analysts are responsible for picking stocks, researching stocks, and producing research on an investment opportunities. Our analysts are directly supported by our sector managers.

Junior analyst

The introductory role of junior analyst will learn the fundamentals of investing through assisting and shadowing Analysts and Sector Managers.

The investment activities of The Fund are supported by our faculty advisor whose aim is facilitate a quality experiential learning environment for our student team members.
Recruitment/membership
We hold a recruitment event at the beginning of every academic term, with our main recruitment taking place at the beginning of the fall semester.
We are looking for students who are inquisitive, who are willing to learn and help one other, and who are willing to commit to our group.
We prefer that students hold membership in The Fund for a full academic year, and we prefer that students are in St. John's for the majority of that academic year.
All of our student members are requested to reapply after one year of membership.
Governance
The Fund is governed by our board of directors, to which we report annually. Daily activities are managed by our faculty advisor and industry mentors, who guide and support fund members throughout our program.
The Fund's investment charter ensures sustainable management and procedures for The Fund's activities. Our students have developed an ESG investment framework that guides stock-picking and analysis to ensure environmental, social, and governance factors are included in our portfolio decisions. We also follow the UN Principles for Responsible Investment.