White Trading Lab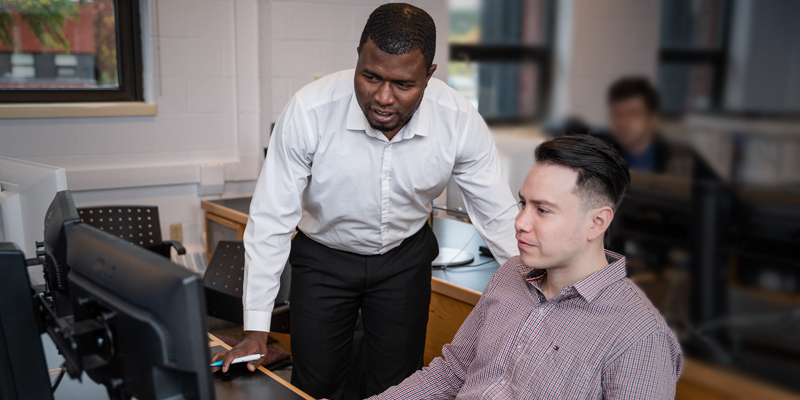 A Bloomberg Experiential Learning Partner
Welcome to the White Trading Lab!
Launched in 2011 through an alumni contribution from Brad White (B.Comm.(Co-op.)'91), the lab is home to 10 Bloomberg terminals, the donation of which was spearheaded by Dr. Alex Faseruk and Josh Quinton (B.Comm. (Co-op.) '07). It was one of the first labs of its kind in North America.
Bloomberg technology enables students and researchers to access news and real-time data as well as to professionals in the finance service sector and other industries.
We're recognized as a Bloomberg Experiential Learning Partner (ELP) by Bloomberg Education, which affirms academic institutions that are leaders in experiential learning through the integration of Bloomberg terminal exercises in its curricula.
The White Trading Lab is located in BN-1011. It's open to all students, faculty and staff at Memorial.
Bloomberg for Education
Bloomberg for Education is committed to helping post-secondary institutions incorporate Bloomberg terminals into academic programs to help prepare students for the global job market. At Memorial, all students and faculty members may use our Bloomberg terminals to access the same information used daily by leading decision-makers in business, finance and government. Instructors may also use the terminals to bring the real-world of finance into the classroom.
Certification
Students and other individuals may complete Bloomberg Market Concepts (BMC) and receive certification that indicates mastery of the Bloomberg terminal.
BMC is a self-paced, e-learning course that is offered free to student and faculty members at Memorial.
Upcoming training
There are no training events scheduled at this time.
Lab manager
Dr. Erin Oldford is a seasoned leader in advance corporate and investment finance. She teaches a variety of introductory and advanced finance and investment courses and is the faculty advisor for The Fund. Her research interests include firm, intra-industry and economic effects of mergers and acquisitions, cross-borders transactions and corporate restructurings.
The Fund
The Fund is Memorial University's student-managed investment fund. Launched in September 2018 with alumni donations totally $150,000 in seeding funding, The Fund provides Memorial students with the opportunity to develop the necessary skills and tools for careers in capital markets.
Resources
Getting Started manual