Dr. Suzanne Hurley, Florian Villaumé & Ama Asubonteng
Have you ever wondered about the role of engineering in promoting gender equality in international development?
Speaking of Engineering
February 1, 2017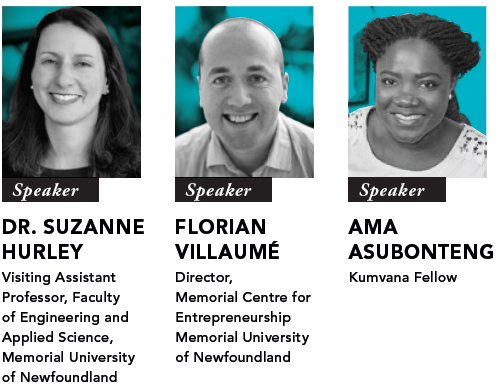 How do we, as engineers, know that what we intend to accomplish will not be undermined by undesired and unintended consequences that fall beyond our area of expertise? How can we be sure that our contribution to society is a net positive one? These questions are of particular importance when technical expertise is brought to bear on issues of international development and north-south social justice. Engineers have traditionally played an integral technical role in development work. Recently though, the emphasis on appropriate and sustainable technical design has widened the scope of responsibilities of engineers working internationally.
Using case studies from international development and humanitarian assistance projects in west, central and southern Africa, this panel will explore the importance of integrating gender considerations into project planning and implementation for the enhancement of global co-operation, project sustainability, gender equality and human rights.
Speaking of Engineering is hosted by the Faculty of Engineering and Applied Science at Memorial University and the Professional Engineers and Geoscientists of Newfoundland and Labrador.
A full-length recording of the lecture can be viewed below.