Dr. Stephen Butt, P.Eng.
Have you ever wondered about the past, present and future of mining in Newfoundland and Labrador?
Speaking of Engineering
February 27, 2019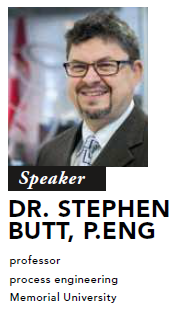 In this presentation, Memorial University process engineering professor Dr. Stephen Butt will provide an overview of the history of mining in Newfoundland and Labrador starting around the mid-1800s with the start of the industrial mining operations to present time.
Dr. Butt will look at the influence of key significant discoveries, war time demands, 20th century industrialization and mining mechanization. The talk will close with the future direction of mining in the province in terms of technology development, innovation and environmental sustainability.
Dr. Butt has been a faculty member for more than 20 years engaged with the development of natural resources in Canada through teaching, research and industry collaboration. He was a faculty member at Dalhousie University prior to joining Memorial. He has been active with laboratory systems and technology development and
holds several patents and technology licences. Dr. Butt has held several administrative positions at both Dalhousie University and Memorial University, and has been active with the Canadian Engineering Accreditation Board and the Board of the NL Angels Network (NLAN), which assists entrepreneurs.
Speaking of Engineering is hosted by the Faculty of Engineering and Applied Science at Memorial University and the Professional Engineers and Geoscientists of Newfoundland and Labrador.
A full-length recording of the lecture can be viewed below.