Dr. Bilal Ayyub
Have you ever wondered how risks are managed for natural disasters?
Speaking of Engineering
Novmber 30, 2017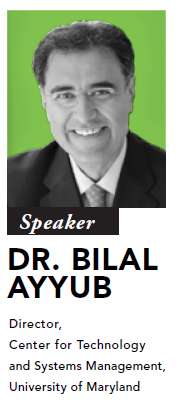 Natural disasters in 2011 alone resulted in hundreds of
billions of dollars in direct damages and about 30,000
fatalities worldwide. Storms and floods accounted for up to 70 per cent of about 300 natural disasters worldwide, with earthquakes producing the greatest number of fatalities.
Managing these risks rationally requires an appropriate definition of resilience and associated metrics.
In this presentation, Dr. Bilal Ayyub, director of the Center for Technology and Systems Management, University of Maryland, provides a resilience definition that meets a set of requirements with clear relationships to reliability and risk as key relevant metrics. Such metrics provide a sound basis for the development of effective decision-making tools for multi-hazard environments.
The presentation also examines recovery, with its classifications based on level, spatial, and temporal considerations.
Three developed case studies will be used to gain insights to help define recovery profiles.
Dr. Ayyub teaches civil and environmental engineering, risk analysis in engineering and economics, and engineering and applied mathematics and scientific computation at the University of Maryland, College Park. His main research interests are risk, uncertainty, decisions, resilience,
sustainability and systems applied to civil, mechanical, infrastructure, energy, defense and maritime fields.
Speaking of Engineering is hosted by the Faculty of Engineering and Applied Science at Memorial University and the Professional Engineers and Geoscientists of Newfoundland and Labrador.
A full-length recording of the lecture can be viewed below.