A success story of an Engineering student
Mohammad Maarouf, the recipient of The Peter Kohler Engineering Scholarship:
"I like to see how things are built"
Feb 19th, 2021
By Adrian Dobre
The Peter Kohler Engineering Scholarship was established through a generous gift from Peter Kohler. This scholarship is valued at $50,000 per student and is awarded in the amount of $10,000 per year for five years, with renewal subject to the recipient maintaining the minimum academic requirements for a scholarship and funds remaining available. The scholarship will be awarded annually to one student enrolled in the Memorial University Faculty of Engineering and Applied Science Co-operative Education Program. The recipient must demonstrate high academic ability, with preference given to students who attended and graduated from high school in Newfoundland and Labrador and who demonstrate financial need. This year's recipient is Mohammad Maarouf.
Mohammad graduated from Holy Heart High School in June 2020 and started the Engineering program that September, same year. He is originally from Syria. Mohammad and his family arrived in Newfoundland and Labrador in 2016 as political refugees, after spending nearly three years in a camp in Lebanon. Mohammad is the eldest of four children with one brother and two sisters. "My little brother was less than a year old when we left Syria. All his memories are from here," Mohammad said. "It's different for me. Sometimes, I miss my friends over there. My grandparents died when we left Syria, but I have classmates from elementary school or relatives who still live in Syria or Lebanon." Although his family has been adapting to the Canadian culture, they try to keep their traditions alive. "We get together with other Syrian families from time to time on the weekends. My mom makes food that we used to have back home. It does not always taste the same because we cannot find all the ingredients here, but it gets better with time. As more people from the Middle East have moved to St. John's, a few grocery stores have recently opened that carry such spices." In Syria, Mohammad would have maybe one day of snow a year and that would be a big holiday for everyone. Over the past four years, Mohammad has gotten used to the capricious weather in Newfoundland. Although NL is much colder and gets more snow than Syria, he goes outside and tries to enjoy the weather.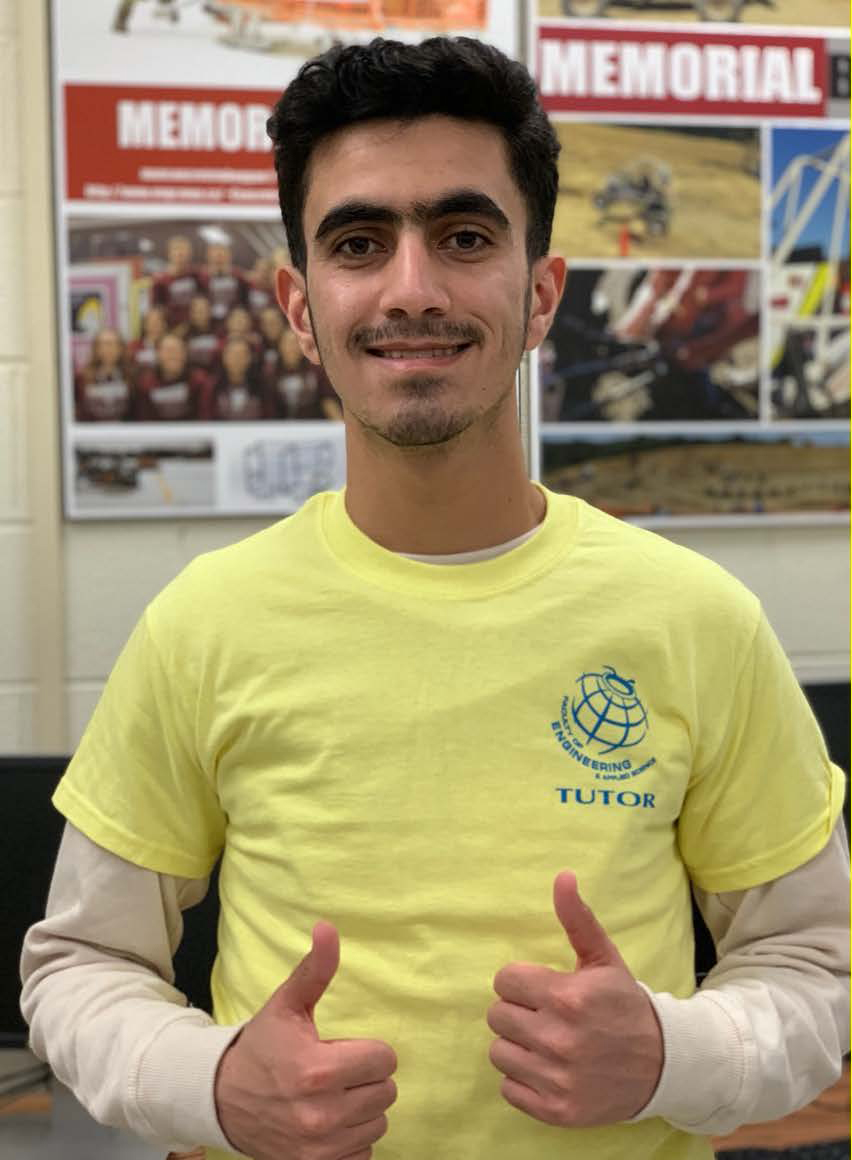 Mohammad wanted to attend the Faculty of Engineering because he enjoyed his high school physics classes and was very comfortable with numbers. "I also like to see how things are built and that's what we do in engineering", Mohammad said. "My first discipline choice is Mechanical Engineering, because I am interested in how things move. My second choice is ONAE. I have a friend in St. John's who is a researcher in the field and he always tells me how cool it is to build ship structures."
I asked Mohammad how he felt about being a university student. "Good", came the quick answer. "It's different because everything is online." He does not have many friends who are also taking engineering classes to be able to work with. Being online makes it difficult for almost all of our first-year students to make connections and meet people. "The only interaction I have with my classmates is during the live engineering tutorials or labs, which I enjoy the most", Mohammad continued.
He does well academically, but if he had to choose one engineering course that was his most challenging, he would pick ENGI 1020 Introduction to Programming without any hesitation. "I took the class in the fall. It was a little challenging, because I had no prior exposure to programming before coming to Memorial. Also, being in my first semester as a university student, it took some time to find my way around. I wish I had taken full advantage of the great resources the Faculty of Engineering has to offer students. For example, I did not attend as many Supplemental Instruction sessions as I would have liked. This semester is different. I am attending ENGI 1010 SI sessions. Interacting with peers, discussing topics learned in class and going over examples is very beneficial."
While other students might be quick to spend some of their scholarship money on gifts for themselves or their families, Mohammad has no such plans. "If I buy anything it will be a chocolate cake to celebrate with my family. The scholarship money is a big help for me and my family who have just started a new life in Canada. My focus is to work hard every day to meet the academic requirements to maintain the scholarship each year."
Good luck with your Canadian dreams, Mohammad!