Research Funding
Within the Faculty of Medicine, the Office of Research and Graduate Studies (RGS) provides administrative support for faculty members to access funding for research projects. The Associate Dean, Research and Graduate Studies, is the Dean's designate for faculty approval for all applications directed at obtaining funding for research activities.

The following section is a synopsis of the application process for research funding and contains information about:

Types of funding
Funding opportunities
Canadian Common CV
Research grant application process
Accessing awarded funding

Application submissions: Funding applications must be submitted via the MUN Researcher Portal for internal review and approval (both faculty and institutional) There are a few minor exceptions to this process; please contact the Research Manager if you are unsure of the correct process. Portal training tools including instructions, training videos and webinars are available for first-time users. This portal is also used to submit Ethics and Animal Care certification applications.
---
Types of funding

There are two main types of research funding: grant and contract funding. Indirect costs (overheads) apply to all external research funding (grant or contract), if it is an allowable expense of the funder. The standard indirect cost rate for MUN is 25% of direct costs (please see policy for details), or the maximum allowable by the funder.

Grant and contract research
Grants and Contracts are characterised differently. Please click below for details:

Grants

Contracts

Research contracts and agreements
Research contracts and agreements are legally binding agreements between the university and a third party, such as a government agency, industry partner or non-profit group. (see policy on Contract Research).

The authority for the oversight of contract administration, the general parameters under which a university contract might be created, the roles and responsibilities associated with contract administration, and the positions that are required to review and sign contracts on behalf of the university are defined in the policy on Contract Administration.

Research Grant and Contract Services (RGCS) is normally responsible for the negotiation and execution of contracts. Faculty members should contact RGCS Contract Administrative Staff or visit the Research Grant and Contract Services website for general information prior to contacting RGS.

Funding opportunities

The Office of Research and Graduate Studies (RGS) distributes regular emails to all faculty members regarding funding opportunities.

Memorial University's Funding Database
The Office of the Vice-President (Research) offers a database that contains information on internal and externalfunding opportunities for researchers at Memorial University:

http://www.mun.ca/research/funding/opportunities/

Individuals can subscribe to this database to receive notice of new opportunities. Important notice: the Memorial deadlines posted in the database are for institutional review. Applicants from the Faculty of Medicine need to submit their application by the Academic Unit Deadline (if this date is not posted to the database, please contact the RGS Research Manager to confirm the faculty deadline. For more information see the research grant application process below.

Funding by professional associations
Faculty members may be eligible for funding opportunities provided by professional associations (such as RCPSC) or specialty associations and societies. Faculty members should contact their respective Discipline Chair regarding funding opportunities available for members in their discipline.

Common CV

The vast majority of research funding organizations require a Canadian Common CV as part of their grant applications. The Canadian Common CV is a web-based module for researchers to gather information on their professional and academic activities. Researchers can create a generic or a funding source specific CV. Refer to the Help section of the Canadian Common CV website for more details.

Faculty members may contact the RGS Research Manager for additional information and support related to the Canadian Common CV.
Research grant application process

All grant applications must be submitted via the MUN Researcher Portal to the Office of Research and Graduate Studies (RGS) in the Faculty of Medicine. Applications require both faculty and institutional approval prior to submission to an external funding agency. Division/Discipline approval is handled via the Faculty of Medicine Approval Form which must be signed and uploaded as part of your portal entry: (click on Internal Approval Form). Grant applications must be submitted to RGS PRIOR to the deadline of the funding agency. Normally the RGS deadline is 10 a.m. one business day in advance of the Memorial institutional deadline (which is normally four business days in advance of the agency deadline). These deadlines are strictly enforced. The grant application process for internal and external grants is outlined in the following chart:​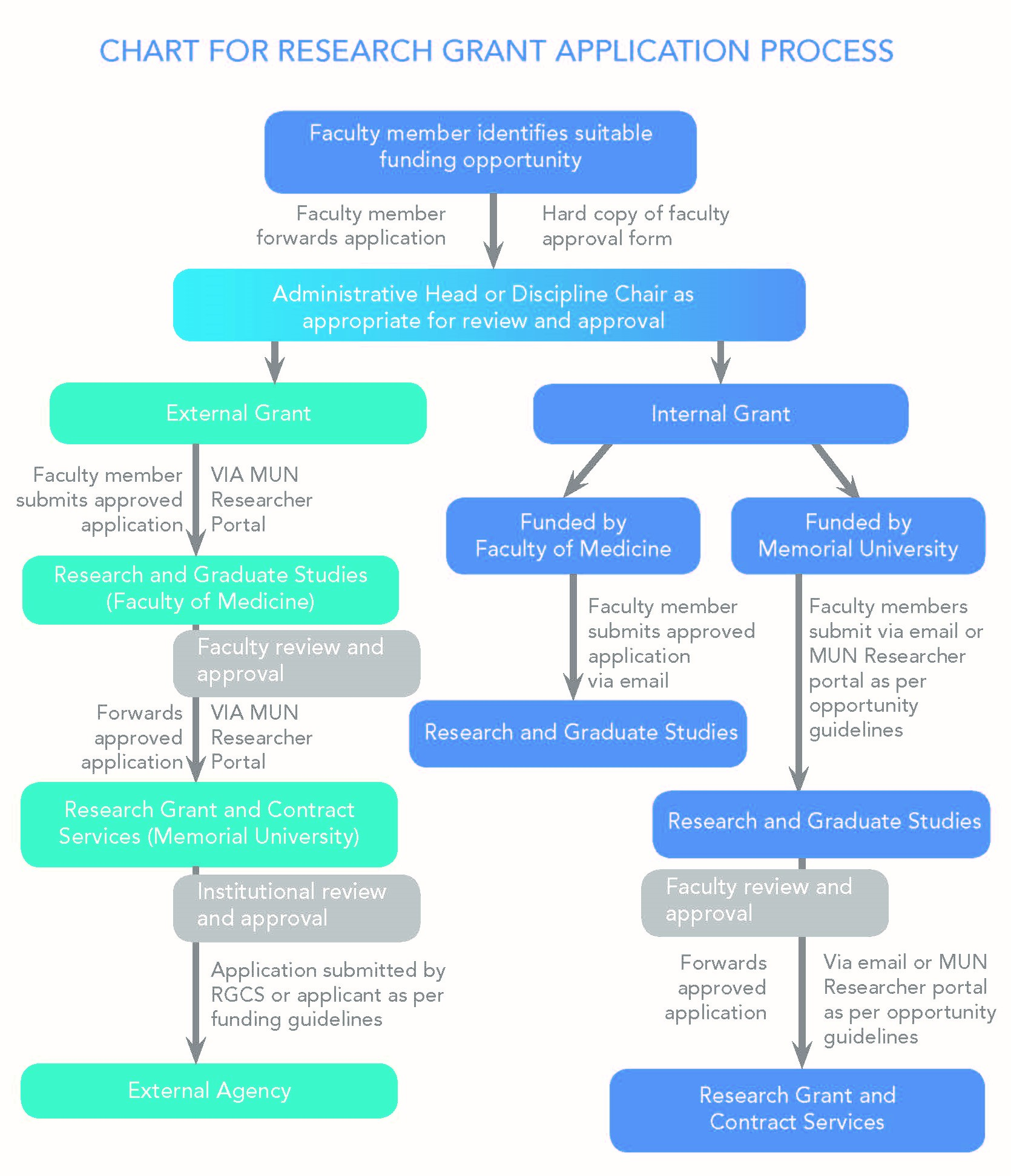 Faculty members should contact the RGS Research Manager with any questions or concerns about grant application deadlines, and the faculty and institutional review process.

Accessing awarded funding

RGCS and the office of Financial and Administrative Services are responsible for establishing research grant or contract funding accounts. Please see RGCS webpage for details on post-award processes. Once your research account is established, please consult with the Faculty of Medicine's Office of Finance for assistance with post-award financial transactions.