Community
---
July 24th, 2016: Tely Makes Me YACC Team
Dr. Sheila Garland had a team called Tely Makes Me YACC, for the 89th annual Tely 10 Mile Road Race on July 24.
They raised $5,333 for Young Adult Cancer Canada (YACC) which is one of Sheila's research area.
---
The 19th Annual Psychology Awards Presented at the Eastern Newfoundland Regional Science Fair
The 19th annual Psychology Awards were presented at the Eastern Newfoundland Regional Science Fair on Sat. April 12th, 2014. Mark Hebert and Sally Payne judged the projects on Friday and Chuck Malsbury presented the awards on Saturday. The Awards are for the best Psychology-related projects at each of the three levels: junior, intermediate and senior.
This year's winners are:
Junior project: A Walk Down Memory Lane
Student: Ashley Stringer
School: St. Bonaventure's College
Intermediate project: The Impact of Height on Reaction Time
Student: Rebecca Harris
School: MacDonald Drive Junior High School
Senior project: Effects Of Fatty Acids Found In Coconut Oil On Alzheimer's Disease
Students: Gabrielle Molloy, Rebecca Casey
School: Bishops College
In addition, all of our award-winning projects were recognized for other awards. Our Junior project winner (Ashley Stringer) received a silver medal in the Junior Life Sciences category. Our Intermediate project winner (Rebecca Harris) received a silver medal in the Intermediate Life Sciences category and the Department of Biology award in the intermediate category. Our senior project winner received a gold medal in the Senior Life Sciences category.
---
Psychology Society MUN Relay for Life Team
On January 26th 2013, the Psychology Society organized three teams to participate in the Canadian Cancer Society's Annual MUN Relay for Life. Thirty students participated from the Psychology Department, and the participants far surpassed their fundraising goal of $3,000. Upon arriving at the Relay in the MUN Field House, students from the MUN Psychology Department had raised a total of $4,404!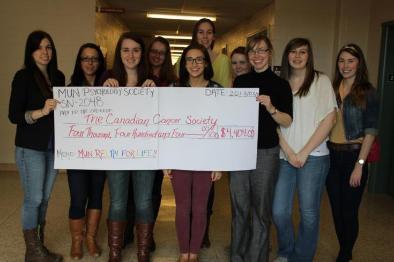 ---
Psychology Society Food Drive
On October 21st, 2011 the Psychology Society organized a food drive to support the Campus Food Bank and the Community Food Sharing Association. They collected over 760 food items, which surpassed their initial goal of 500 donated food items. Upon dropping off their 760+ food items to Hatcher House, the society was praised for being the only student society on campus to organize a food drive to support the I Love MUNDays food collection initiative.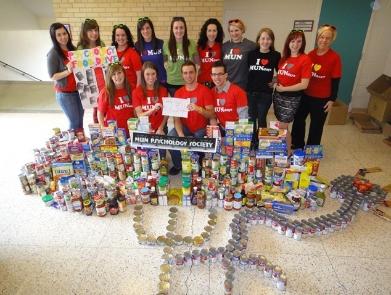 ---
Junior Highschool Enrichment Programme
Each year at the end of April, the Psychology Department offers a 2-day mini-course enrichment programme in Animal Psychology. A number of faculty, staff and students (grad and undergrad) give one to two hour presentations of the work they do to 8 Junior Highschool students. Some subjects that the mini-course may include is rat brain dissection (including mounting and staining), training rats/mice to perform tasks that answer questions about how they learn, observing duck behaviour at Burton's Pond, seabird research and other fieldwork challenges, dog and wolf studies, lab experiments with beta fighting fish, plus whatever else we can come up with (often varies from year to year).