Fall 2022 Concert Series
Our Fall 2022 Concert Series is here!
Our Mainstage Series gives you the opportunity to hear performances from our internationally acclaimed faculty. Our Ensemble Series showcases the variety of exciting ensembles at the School of Music. In our Noon Series, you can enjoy free performances from the School of Music community during your lunch hour!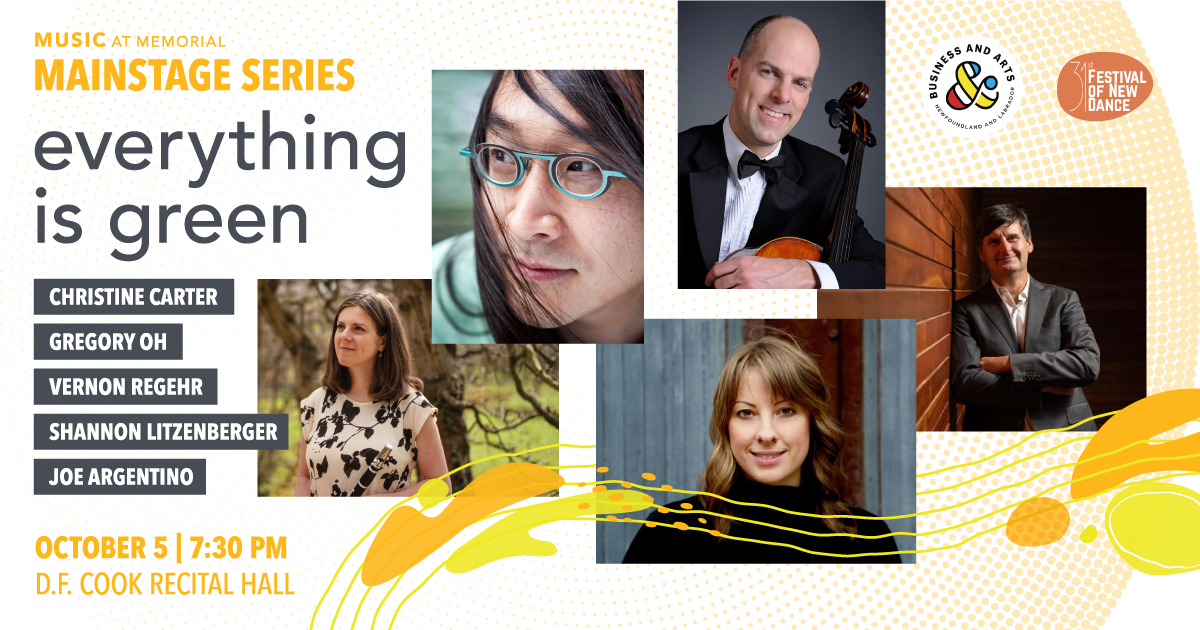 Everything is Green | Mainstage Series
Christine Carter, Gregory Oh, Vernon Regehr, Shannon Litzenberger, and Joe Argentino
Co-presented by the Festival of New Dance and Business and Arts NL, and supported by the Memorial Quick Start Fund for Public Engagement
Wednesday, October 5, 7:30pm
D.F. Cook Recital Hall
Clarinetist Christine Carter and pianist Gregory Oh join forces with award-winning Canadian contemporary dancer/choreographer Shannon Litzenberger for Randy Woolf's breathtaking "Everything is Green" and Arvo Pärt's equally exquisite "Spiegel im Speigel" ("Mirror in the Mirror"). The program is rounded out with Beethoven's early Trio for Piano, Clarinet, and Cello and Vivian Fung's whimsical "Billy Collins Suite," in collaboration with faculty members Vernon Regehr (cello) and Joe Argentino (narrator).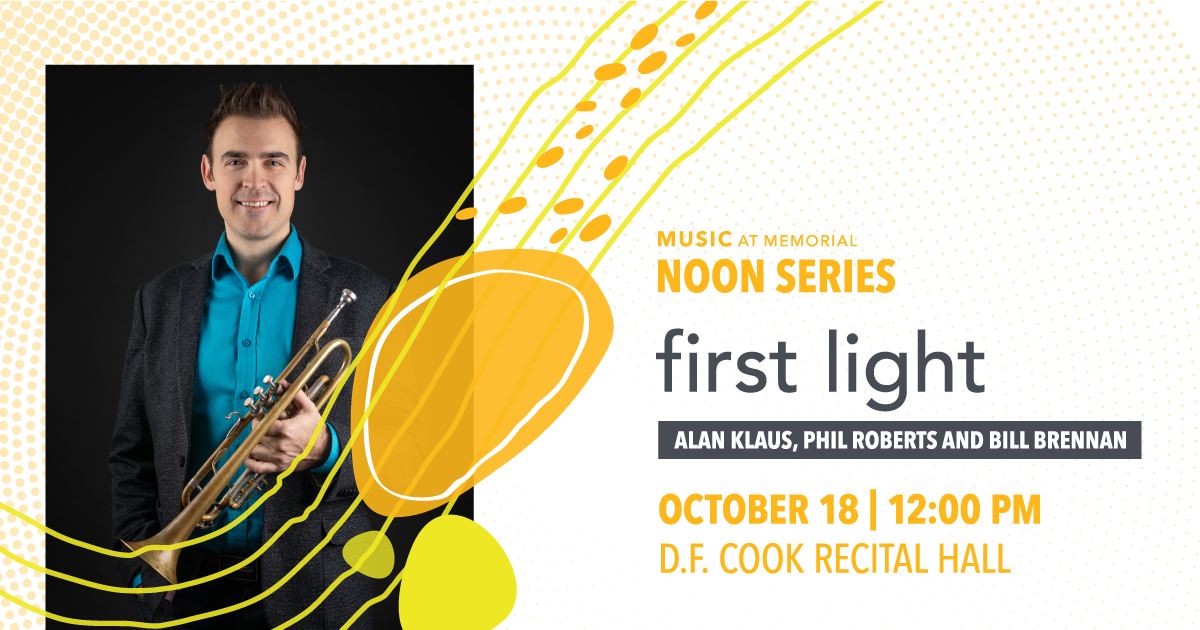 First Light | Noon Series
Alan Klaus, Phil Roberts and Bill Brennan
Tuesday, October 18, 12pm
D.F. Cook Recital Hall
FREE EVENT
Alan Klaus' debut solo CD gives First Light to a stunning array of previously unreleased Canadian repertoire for trumpet with electronics, piano, and/or strings. Staniland's tour de force, Inventions, is balanced by a complement of pieces by Teehan, Brennan, Meechan, Gilliland, and Nishimura themed on the interplays between darkness and light, struggle and hope, the natural and spiritual.
Yesterday's Joy | Ensemble Series
MUN Wind Ensemble and the Royal Newfoundland Regiment Band
Thursday, October 20, 7:30pm
D.F. Cook Recital Hall
The MUN Wind Ensemble and the Royal Newfoundland Regiment Band under the direction of Captain Chris Miller, join forces in a program featuring works by Julie Giroux, Samuel Hazo and Brant Karrick.
All About That Bass | Mainstage Series
Vernon Regehr, Meredith Johnson, Kate Read, Daniel Fuchs, and Patrick Cashin
Friday, October 21, 7:30pm
D.F. Cook Recital Hall
We are thrilled to welcome back double bassist Meredith Johnson to the Music at Memorial concert stage after almost a decade! He'll be anchoring a program of chamber music that features Parlour Games, a new work for cello and bass by Michael Oesterle, performed with cellist Vernon Regehr. Intended to be played in whatever order the performers wish, these 12 short movements are light-hearted and fun, and are based on the concept that Bela Bartok used in his duo for 2 violins. The rest of the program is rounded out by another work for bass and cello entitled Duo di Basso by Czech composer Zdenek Lukas, and Ralph Vaughan Williams' early work, the sumptuous piano quintet.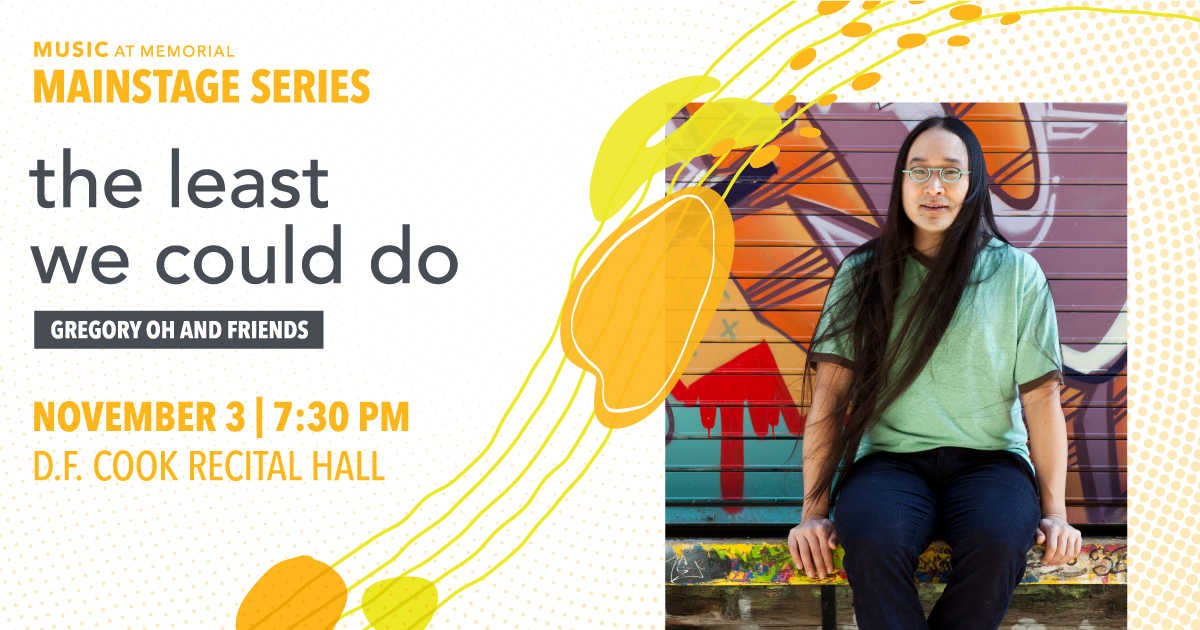 The Least We Could Do | Mainstage Series
Gregory Oh and friends
Thursday, November 3, 7:30 pm
D.F. Cook Recital Hall
Masterworks of minimalism. Works by Ann Southam, Phillip Glass and Steve Reich, and featuring Frederic Rzewski's Coming Together, a powerful work about the last days of Sam Melville, an incarcerated civil rights radical who was among the 39 people shot and killed by state police in Attica Prison Riot of 1971. On the whimsical side, Sean Griffin's Pattycake turns a childhood game into a dazzling virtuosic display.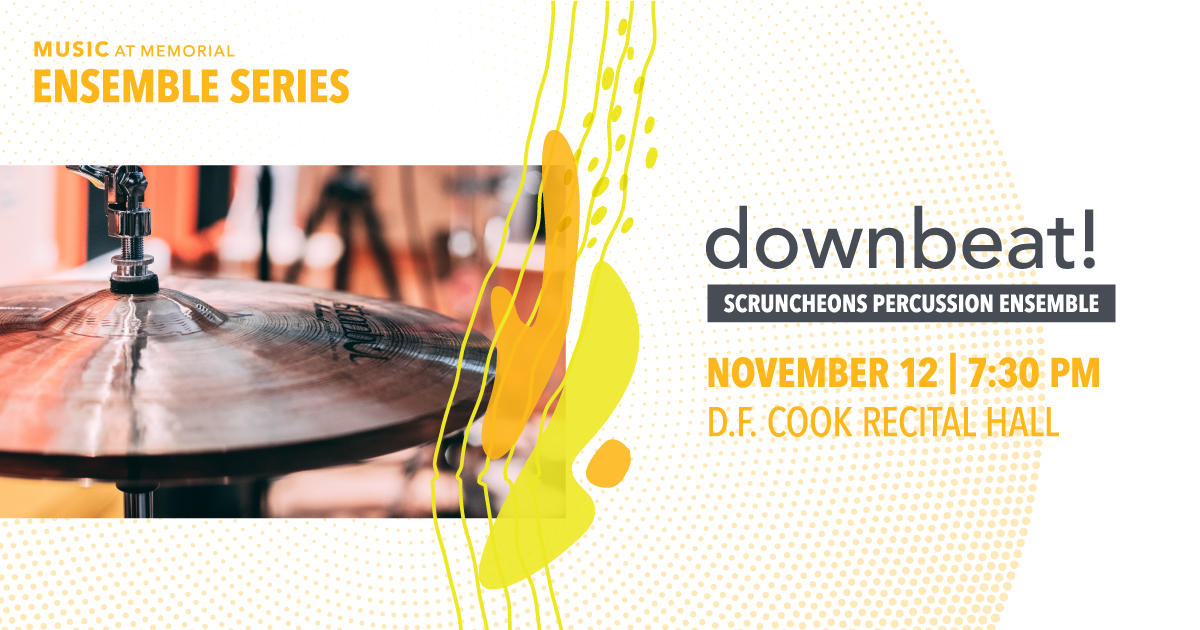 Downbeat! | Ensemble Series
Scruncheons Percussion Ensemble
Saturday, November 12, 7:30pm
D.F. Cook Recital Hall
Join the Scruncheons on a musical journey through the world of percussion, featuring current students and special alumni guests!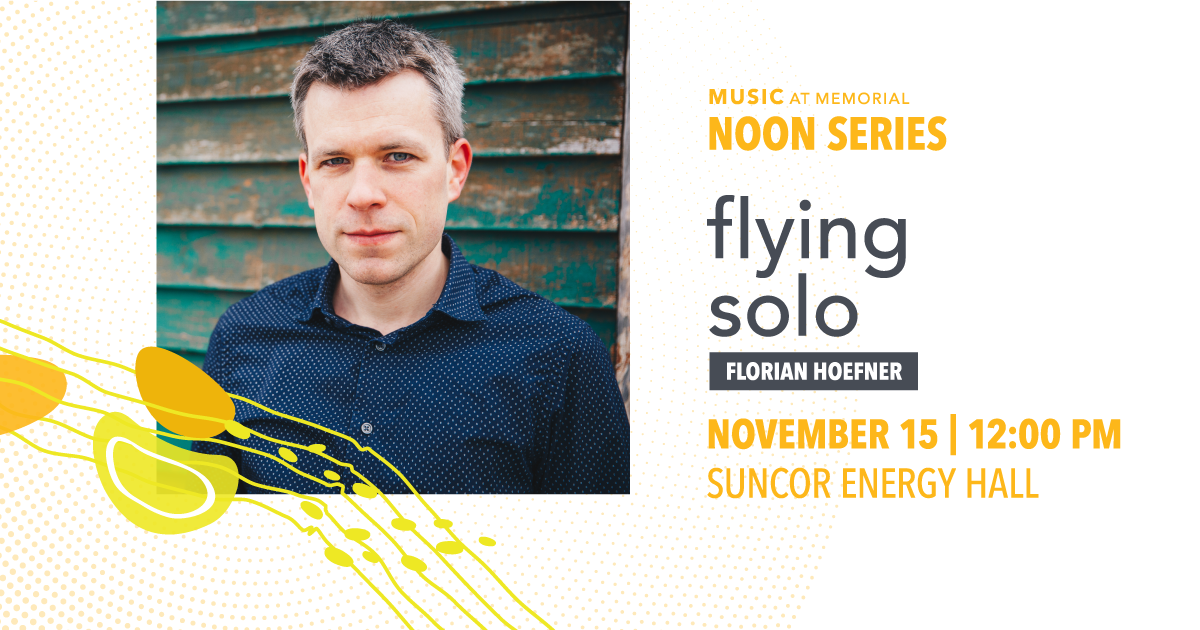 [NOON SERIES]
Flying Solo
Florian Hoefner
Tuesday, November 15, 12pm
Suncor Energy Hall
FREE EVENT
Florian Hoefner will present an hour of spontaneous solo piano creations. Join him on this improvised journey exploring the sound worlds of folk music, contemporary classical music, and jazz.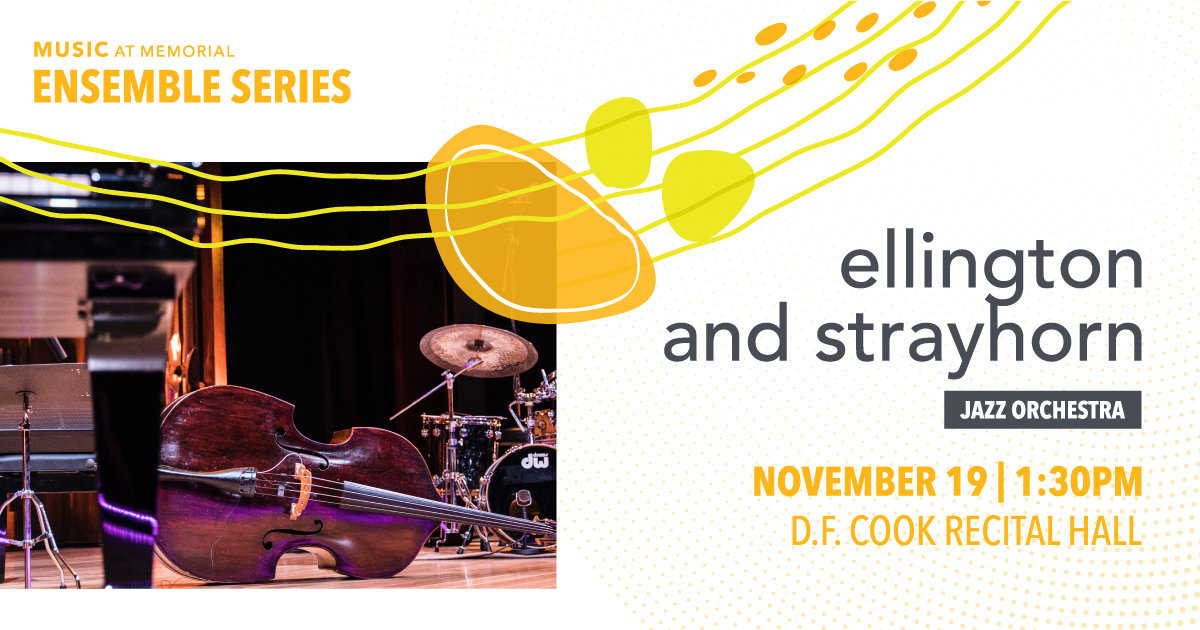 Ellington and Strayhorn | Ensemble Series
MUN Jazz Orchestra
Saturday, November 19, 1:30pm
D.F. Cook Recital Hall
The MUN Jazz Orchestra will perform the music of Duke Ellington and Billy Strayhorn, two composers who are responsible for some of the most enduring jazz compositions of the 20th century. The concert will pair original arrangements as performed by Duke Ellington's Jazz Orchestra with renditions by contemporary arrangers such as Miho Hazama, John Clayton and John Hollenbeck.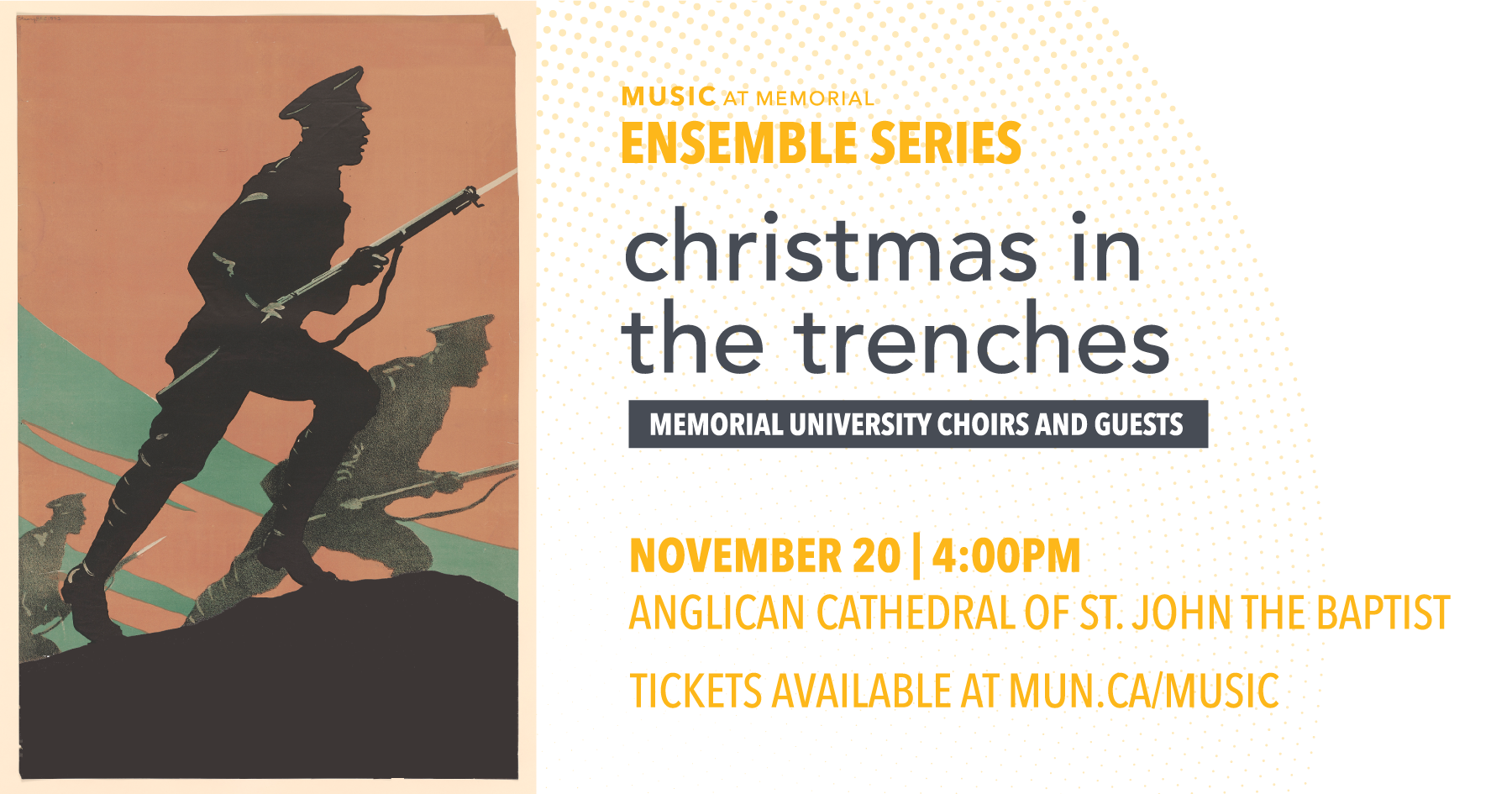 Christmas in the Trenches | Ensemble Series
MUN Festival Choir and MUN Chamber Choir
Sunday, November 20, 4pm
Anglican Cathedral of St. John the Baptist
Join the MUN choirs as we pay tribute to a very special moment in our global history: "The Christmas Truce" of 1914 culminated in a spontaneous celebration, a shared meal, and the singing of the beloved carol "Silent Night" by enemy soldiers on both sides of No Man's Land.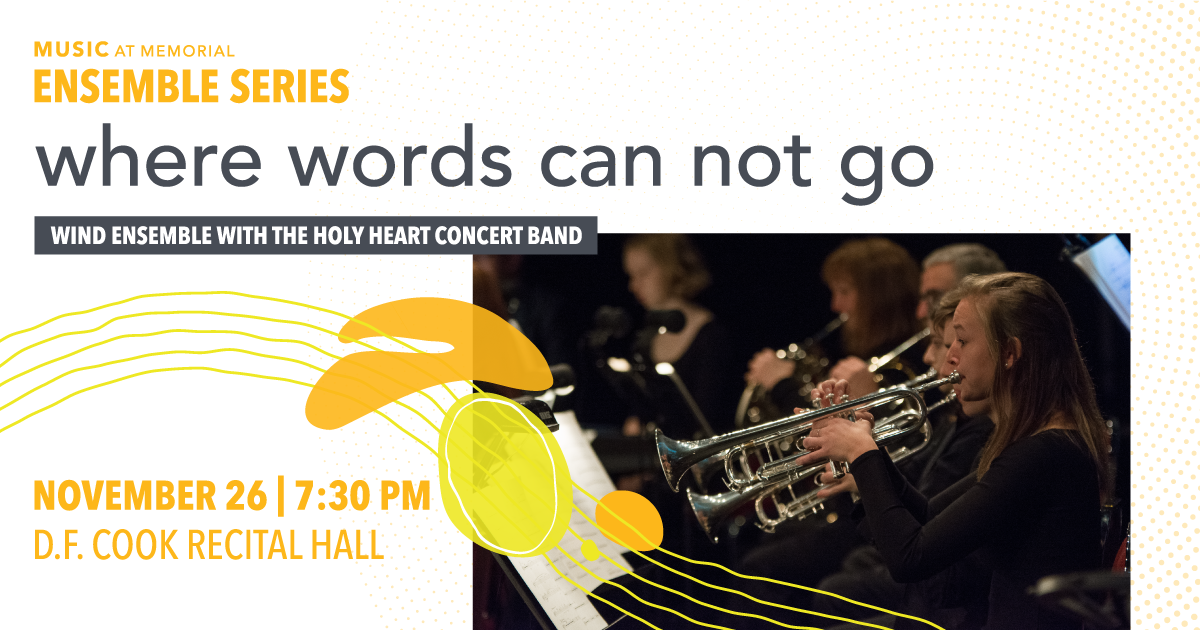 Where Words Can Not Go | Ensemble Series
MUN Wind Ensemble with the Holy Heart Concert Band
Saturday, November 26, 7:30pm
D.F. Cook Recital Hall
Holy Heart of Mary High School Concert Band (director Robert Lee) joins the MUN Wind Ensemble in a program of exciting works for wind band, including compositions by Nicole Piunno and Sean O'Loughlin. This concert features concerto competition winner Shirley Liu, who will perform Otar Gordeli's Concerto for Flute.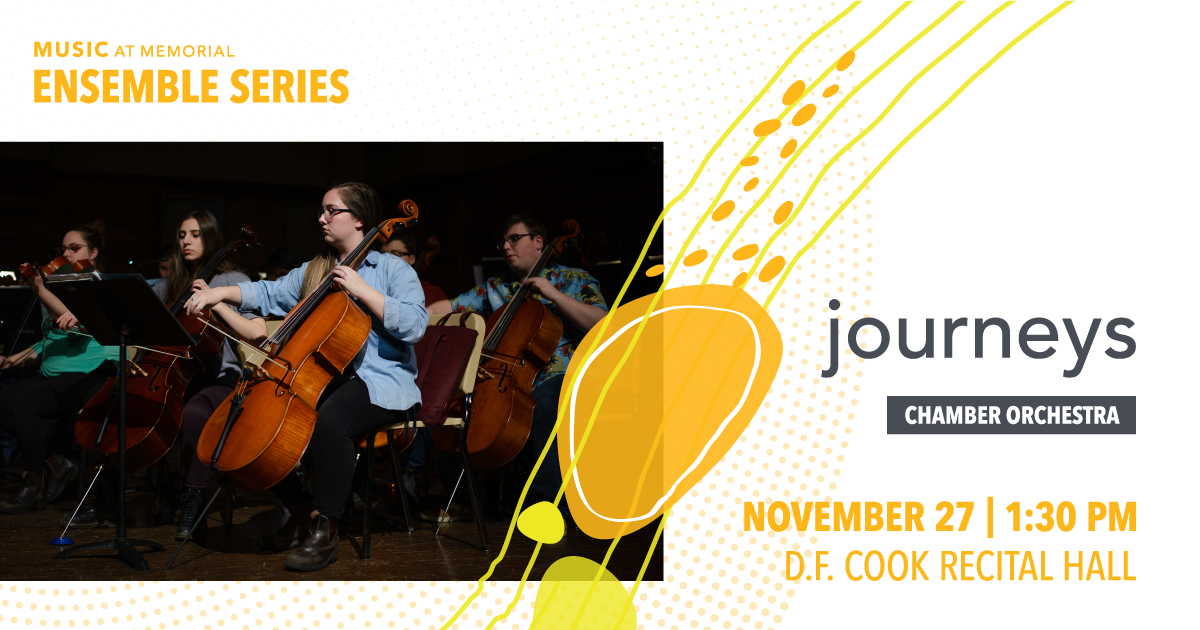 Journeys | Ensemble Series
MUN Chamber Orchestra
Sunday, November 27, 1:30pm
D.F. Cook Recital Hall
MUN Chamber Orchestra performs two pieces by classical era giants featuring the winner of the 2022 MUN Concerto Competition as the featured soloist.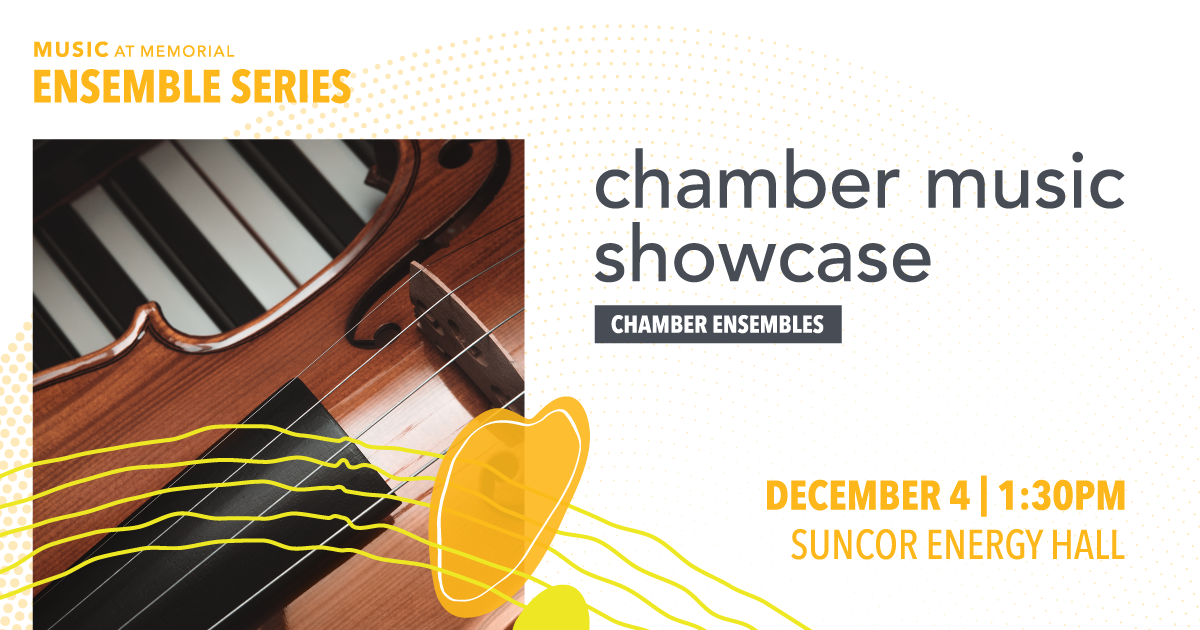 Chamber Music Showcase | Ensemble Series
Sunday, December 4, 1:30pm
Suncor Energy Hall
Small, conductorless ensembles made up of undergraduate and graduate students present an exciting musical variety show.
Previously in our Fall 2022 Concert Series: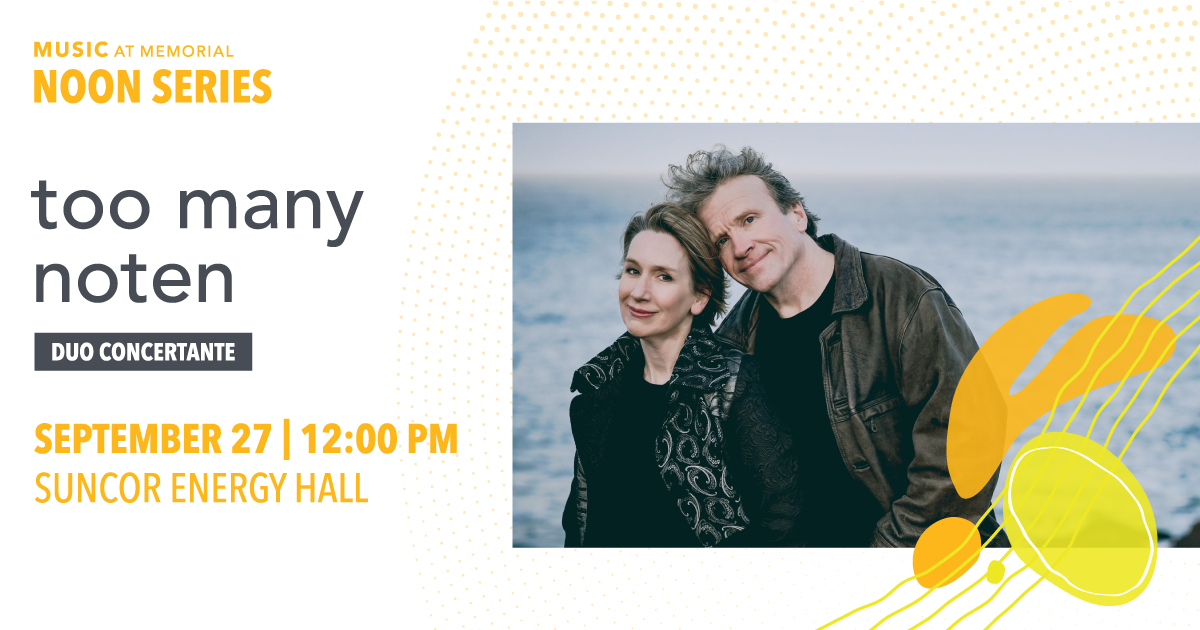 Too Many Noten | Noon Series
Duo Concertante
Tuesday, September 27, 12pm
Suncor Energy Hall
FREE EVENT
World premiere of Duo Concertante's first commission of German composer Stefan Heucke, paired with another fine German composer, Beethoven.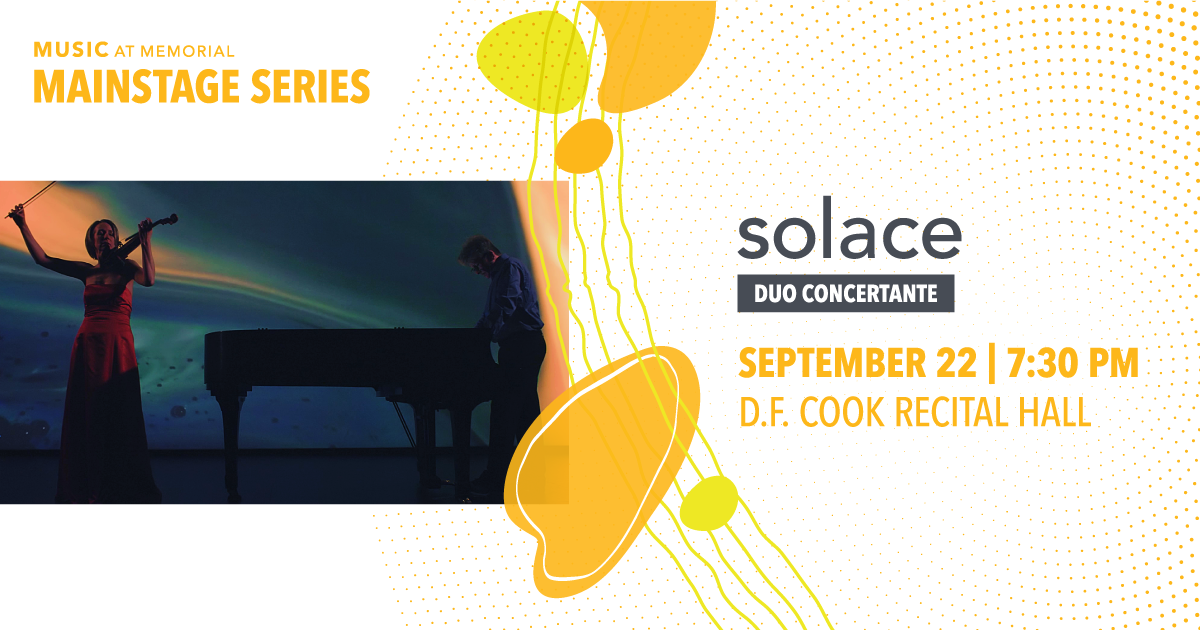 Solace | Mainstage Series
Duo Concertante
Thursday, September 22, 7:30pm
D.F. Cook Recital Hall
Solace, a project centering on themes of peace, reconciliation and love, was a response to the collective grief and pain suffered throughout the pandemic years. Filmmaker Nicola Hawkins' treatments of these inspiring pieces are distillations of natural beauty and sound that transcend the boundaries of music on film.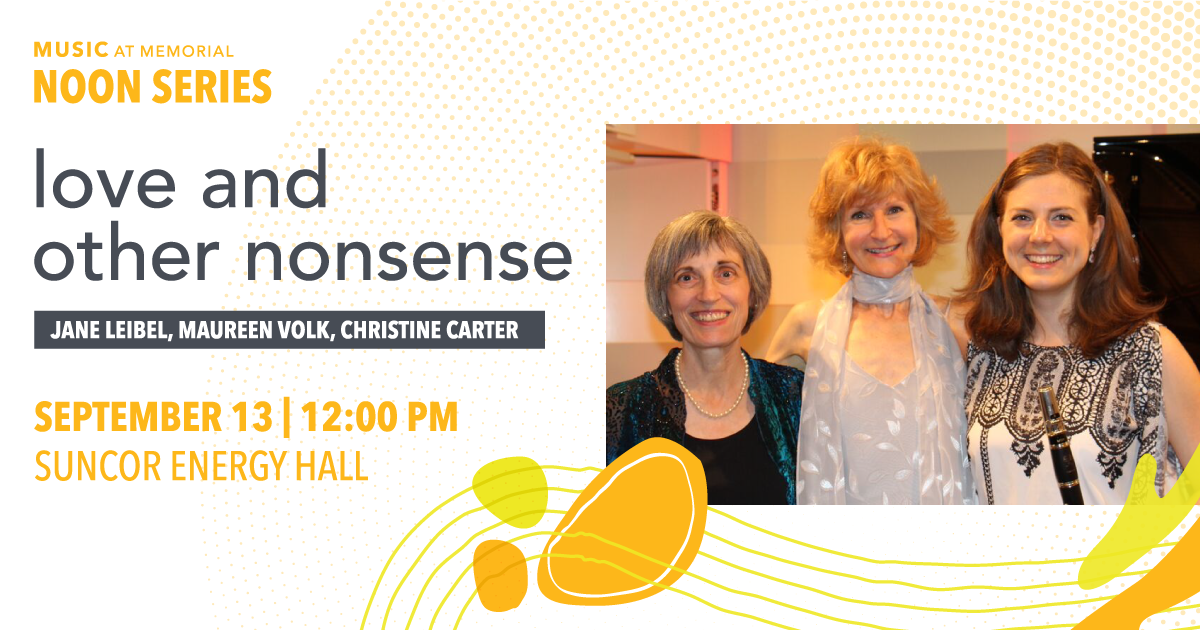 Love and Other Nonsense | Noon Series
Jane Leibel, Maureen Volk, Christine Carter
Tuesday, September 13, 12pm
Suncor Energy Hall
FREE EVENT
Join soprano, Jane Leibel; pianist, Maureen Volk; and clarinettist, Christine Carter as they perform: Love and Other Nonsense, featuring the rhapsodic songs of Sergei Rachmaninov's Op. 38; a selection of Arnold Schoenberg's Cabaret Songs and a premiere performance of Nonsense Songs, a newly commissioned trio piece by Canadian composer, John Greer.
---
Want to stay updated about upcoming concerts at the School of Music?