Rehearsal and Practice Rooms
Charles W Hutton Choral Room (MU-1032)
The Choral Room is a 130-seat theatre with tiered seating for musical and lecture style applications. It is available with or without multimedia presentation projection to a 9- foot screen through PC and Mac applications, visual presenter and most popular audio visual formats. It has internet access and laptop hook-up. The choral room comes with one 9-foot grand and one upright piano for musical performances.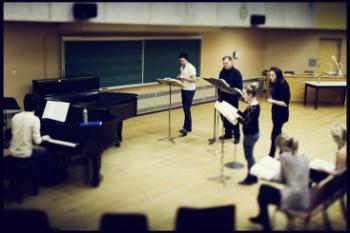 Eleanor Mews Jerrett Instrumental Room (MU-1034)
The Instrumental Room is a large orchestral rehearsal room and is acoustically treated for recording purposes. The Instrumental Room is used by the Newfoundland Symphony Orchestra and the MUN Concert Band for large group rehearsals. At certain times during the year it can be cleared to provide a large floor space for trade shows and special presentations. The Instrumental Room seats a maximum of 100.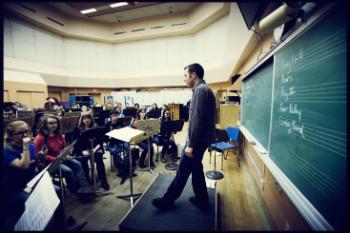 Chamber Studio (MU-1001)
The Chamber Studio is a medium sized rehearsal space with a 6-foot grand and an upright piano. It was designed for small chamber groups to rehearse.
Practice Rooms
Practice rooms are situated in a secure corridor along with the student lounge. Music students have secure access 24/7. From 2011-14 practice rooms were refitted with new Yamaha pianos. Many of our practice rooms feature windows that open to fresh air! [Practice Rooms are available to students of the School of Music only]