Scruncheons Percussion Ensemble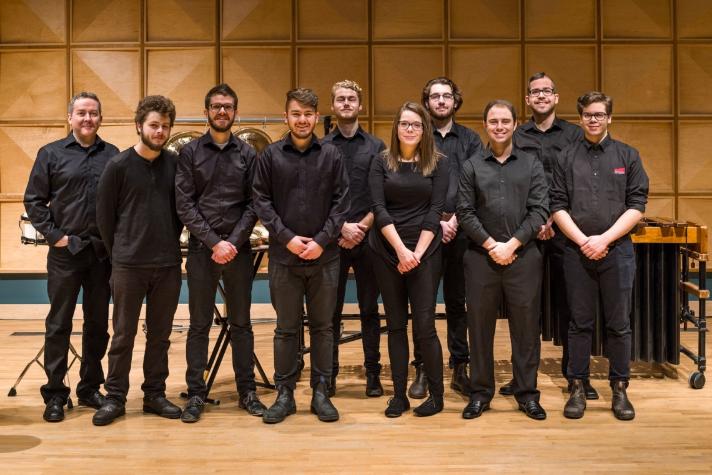 The Memorial University Percussion Ensemble was formed by Don Wherry in the late 1980s, and changed its name to the Scruncheons in 1992. Since 2001, the group's activities have been directed by Prof. Rob Power, a founding member of the 'original' Scruncheons, and the current professor of percussion at the School of Music.
The Scruncheons have presented hundreds of concerts and workshops, including collaborations with dance, theatre, and the visual arts. The group has toured Newfoundland and Labrador extensively, and has performed with many well known artists and musicians, including Trichy Sankaran, Jerome Blais, John Wyre, The Newfoundland Symphony, the Beothuck Street Players, and the Nain Drum Dancers.
Scruncheons concerts regularly feature improvisation, world music, homemade instruments, contemporary percussion ensemble repertoire and world premieres. Many members of the Scruncheons compose music for the ensemble. They are regular performers at the Sound Symposium and have been heard several times on CBC Radio's Musicraft, as well as nationally on Two New Hours and The Signal. The group will often expand to include up and coming percussionists, former students, and other percussion enthusiasts.
Questions? Contact Prof. Rob Power, Director of Scruncheons.
Alex McFarlane
George Morgan
Steve Butler
Bill Brennan
Wayne Hynes
Kevin Coady
Erin Donovan
Rob Lee
Todd Martin
Rob Power
Rich Spurrell
Tony Hall
Adam Staple
Scott Mansfield
Sonny Hogan
Romano Dinillo
Greg Hawco
Andrew Mercer
Gina Ryan
Kieran Adams
Seth Davenport
Paramita Nath
Dave Humphrey
Guida Hogan
Chris Parsons
Brant Parsons
Paul Murphy
Sean Dalton
Kevin Janes
Ian Page-Shiner
Curtis Andrews
Anu Rao
Erin Sharpe
Allison Neary
Rob Pittman
Amie Watson
Dan Galway
Brad Kilpatrick
Ed Squires
Sarah Smith
Keith Harding
Andrew Dunsmore
John Power
Yves Conan
Phil Yetman
Kim Ettinger
Annie Croft
Sam Gildner
Whitney Rowe
Andrew Bartle
Katie Lawlor
Richard Klaas
Brad Cooper
Jamie Wilkinson
Mark Edwards
Andrew Rideout
Andrew McCarthy
Scott Latham
Dan Farmer
Evan Bowen
Redmond MacDougall
Kyle Andrews
Samantha Oakes
Alex Peppard
Jon Hicks
Evan Harte
Chris Downton
Craig Thorne
Bert Power
Gabriela Sanchez
Jack Etchegary
Liam Robbins
Nicholas Hiscock
Ethan MacGowan
Patrick d'Eon
Joshua Lawlor
Jamie Moran
Michael Keating
Caleb Mcrobb
David Kerr
Lexie Worthman
Kelsey Miller
Mason Power
Mitchell Tuck
Michael O'Keefe-Daw
Michael Grandy
Jenna Grant
Amy Parsons
Once a Scruncheon, always a Scruncheon!