Music student Oxford bound for next big performance
Dec 12th, 2017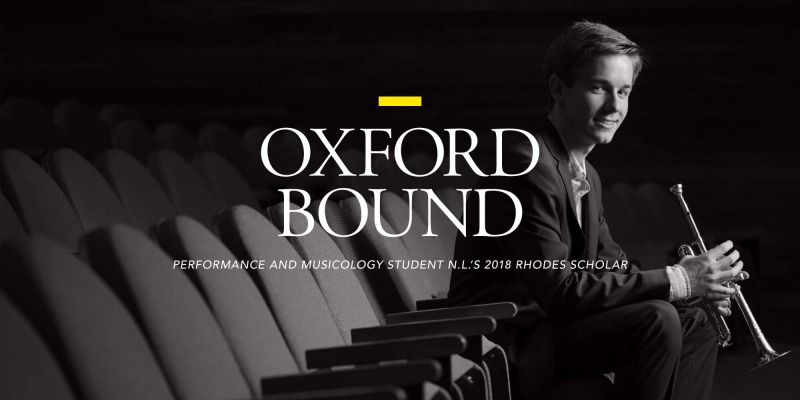 Music student Oxford bound for next big performance
Fourth-year School of Music student Michael O'Keefe was at home, enjoying a little rest and relaxation before wind ensemble rehearsal, when the phone rang.
"I remember that phone call in slow motion, it felt surreal," said Mr. O'Keefe, who could hardly believe what the voice on the other end of the line was telling him.
Which was, that he'd been named the 2018 Rhodes Scholar for Newfoundland and Labrador.
"I think my response was 'Wow, that's incredible.' I was truly speechless. I went into the next room to tell my Mom and she actually picked me up off the ground! That is no small feat considering her size compared to mine!"
Earlier that morning, Mr. O'Keefe had completed two days of intensive scrutiny as a finalist for the Rhodes Scholarship.
The prestigious award is presented each year to 11 Canadian students, including one from Newfoundland and Labrador.
"I have long wanted to live and study in the UK," said Mr. O'Keefe, a double major in trumpet performance and musicology who had visited Oxford with music school friends in 2015 during studies at Memorial's Harlow Campus.
"The historical perspective of its universities and the vibrancy of its arts community are unparalleled."
Established in 1903, Rhodes Scholarships are postgraduate awards supporting outstanding all-round students at the University of Oxford, providing transformative opportunities for exceptional individuals.
The Rhodes application process was daunting and time-consuming, but Mr. O'Keefe's professors, friends and family believed so strongly in the young musician's candidacy that he was motivated to "make this goal a reality."
"Michael is in every respect an exceptional individual," said Dr. Ian Sutherland, dean of Memorial's School of Music. "A musician, a scholar, a humanitarian, a policy shaper. This opportunity at Oxford is life-changing. He has so much potential to make the world a better place. The School of Music could not be more proud of him."
"You know, I could have never imagined how well the School of Music would prepare me for this step. I believe that the support and opportunities available to students here are second to none." said Mr. O'Keefe, who's been active in student government since his first year at Memorial.
Recently he was one of 20 university students, 10 from Canada, 10 from the United States, selected to attend the Fulbright Canada Youth Institute on Canada in the World.
Passionate about music, Mr. O'Keefe performs extensively with the Newfoundland Symphony Orchestra, with School of Music ensembles and as a soloist. He's also intensely interested in the relationship between music and people, how it influences policy, justice and inclusivity, and its capacity to bring people of diverse backgrounds together.
Next step his Oxford journey is to apply and be placed in one of the university's colleges.
"I am very excited to get started," said Mr. O'Keefe. "I intend to pursue music and public policy studies, furthering both my musicianship and my research on the nexus between arts and culture and public policy.
"The great thing about studying at Oxford as a Rhodes Scholar is that it will open many more doors than it will close. I look forward to growing as a person, a musician, a researcher, and I look forward to forging new relationships that will last a lifetime."
Mr. O'Keefe is the second School of Music student to be named a Rhodes Scholar. Anthony Payne, who earned his music and science degrees, won the scholarship in 2013.