Meet the Majors - Joint Major in Music Performance and Musicologies - Hannah Sparkes
Apr 11th, 2022
In our Meet the Majors series, we are profiling current students and alumni of programs offered at Memorial University's School of Music! Whether you are a current student or thinking of applying, we hope these interviews help you gain insight into the range of programs that the School of Music has to offer. Visit this page to view a list of all of the majors and minors currently available for students.
A Joint Major in Music Performance and Musicologies is recommended for students who have both advanced performance skills and an interest in music research.
Meet Hannah Sparkes, BMus '22, Joint Major in Music Performance and Musicologies!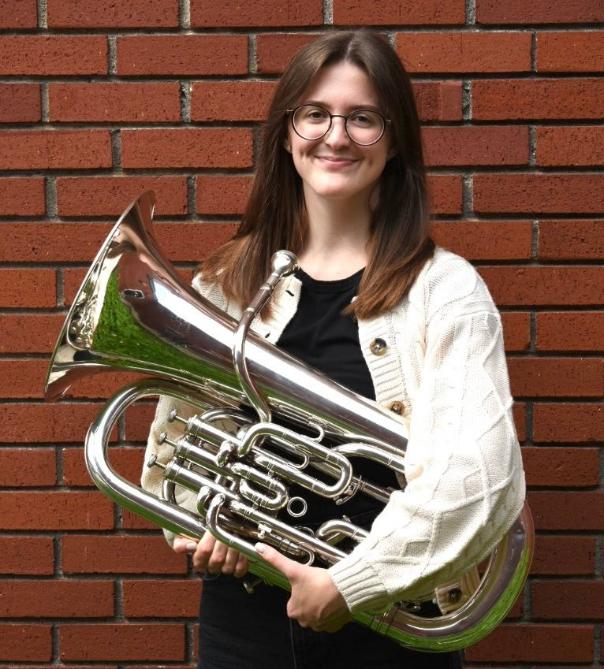 Hannah Sparkes is from Corner Brook, Newfoundland, and is a fourth-year student at Memorial University of Newfoundland's School of Music, majoring in Euphonium Performance and Musicologies, and minoring in Psychology. This semester, she is researching the potential effects of music-based interventions on the mental health of prison inmates for her graduating essay. In the future, Hannah would like to work in the healthcare system, advocating for community-based programming that supports mental health and wellbeing. She will be graduating in the Spring of 2022 and plans to pursue graduate studies.
Music at Memorial: When did you first become interested in music?
Hannah: I started music when I was three or four in the Music for Young Children program. I was in piano lessons for most of my childhood and started playing euphonium in elementary school. When my band teacher assigned instruments, I first tried out the trombone because my grandfather played it. After a year, I wasn't picking it up, and then my teacher asked if I would like to try euphonium.
In high school, I made a last-minute decision to audition for music. Although I had applied for a lot of science programs, I knew that I wasn't ready to put music in the past. Before my audition, I went to the shadow day and loved the environment at MUN. I knew that I felt at home here!
Music at Memorial: What are your career goals?
Hannah: I would like to end up working in health care! I am passionate about mental health and doing whatever I can to improve the mental health of others.
This semester, I have been researching how music-based interventions could impact the mental health of prison inmates. There's a very high rate of mental illness in prisons for a variety of reasons. Either people have mental health issues before they go or develop them while in prison. I am interested in how music-based interventions can help create social connections and how it can help people once they are released into society to prevent them from ending up back in prison. I want to research group music interventions of popular music, music-making and songwriting. Making music as a group can help people express their emotions and create bonds with fellow inmates. Also, I want to learn how family members can be involved in this music-making process. Being in prison strains relationships and often can lead to reoffending if they don't have family support.
My research is related to Newfoundland right now, and I would like to see how music-based interventions could work in the province.
Music at Memorial: Why did you choose to study at Memorial?
Hannah: I chose to study at Memorial because I am from Newfoundland, and I felt like there is so much opportunity here. In my music degree, I have met a lot of faculty members who have helped me pursue my goals and dreams. In particular, Dr. Gosine has given me a lot of this information and guidance. When she talked about Music and Health in my first year, I saw the connections that I didn't know existed before. I was super excited by the idea that science and music could be combined. From those classes, I knew that I wanted to pursue Musicology further. Since my first year, I have had the opportunity to volunteer with Better Breathing Choir. Here, I have learned more about the health benefits of singing, and it has helped me have a deeper understanding of the community it builds.
Music at Memorial: Do you have any advice for those looking to become Joint Performance and Musicology majors?
Hannah: For musicology you need to do six musicology courses, two non-English courses (I took French) and a cognate field/elective. I chose psychology and did eight courses for a minor too! Here are the musicology courses that I have taken:
Music and Folklore
Newfoundland folksongs
Asia and Oceania
Music and Health
A History of Popular Music in Drama
Music and Ecology
Take some time to find what you are very interested in and excited about. Do whatever you can to pursue it.
Customize your degree to fit your interests and what you want to do in life!
Both Musicology and Performance take time and effort, but the results are very rewarding.
- Interview conducted by Music at Memorial's Winter 2022 Digital Marketing Intern, Sarah Knight.