Meet the Majors - Composition - Andrew Gosse
Feb 11th, 2022
All students in the Bachelor of Music program declare a major in the second year of their undergraduate degree. To help students decide which major or minor is right for them, we are profiling faculty, current students, and alumni of programs offered at Memorial University's School of Music! Whether you are a current student or thinking of applying, we hope these interviews help you gain insight into the range of programs that the School of Music has to offer. Visit this page to view a list of all of the majors and minors currently available for students.
A composition major is recommended for students who plan to compose or to teach composition. Focused courses on musical techniques, such as counterpoint, orchestration and jazz theory, help to hone your craft. Spend time in our state-of-the-art electronic music studio, the MEARL, where you can learn to score for film or study advanced music programming languages.
Meet Andrew Gosse!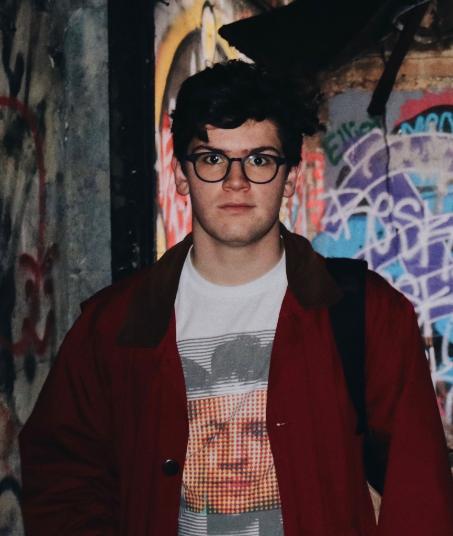 Andrew Gosse is a current B.Mus. Composition student at Memorial University of Newfoundland's School of Music studying with Dr. Andrew Staniland and Dr. Clark Ross. Gosse was born and grew up in St. John's, Newfoundland. His work explores and often connects the realms of contemporary classical, electronic, and improvisatory music.
Music at Memorial: When did you first become interested in music?
I have been involved with music for most of my life. I started playing violin with the Suzuki program when I was a little kid around 3 or 4 years old. I grew up playing violin both in chamber groups and as a soloist until junior high when I joined the youth orchestra. At the time it was called the Newfoundland Symphony Youth Orchestra, but now it is called Calos. I really enjoy performing and making music in group settings, especially choral and orchestral music. I joined Shallaway around age 9 and was involved for the rest of my youth. Now, I have recently joined the program again to help out! Getting to work with a lot of different people and connect with others is something I find that's really exciting about music. I have always been interested in engaging with music in any way that I can and have always found it very fulfilling.
I made the decision in high school to pursue music as a career and started working hard and practicing a lot. I had so many positive experiences growing up and was lucky enough to have people that showed me the community and creative aspects that music has. I thought that no matter where I went, a music degree would be helpful in finding a career involving community building and collaboration in general!
Music at Memorial: What are your career goals?
After I finish my undergrad, I want to do a Masters in composition, hopefully with a focus on electronic music and improvisation. My plan is that once I have moved a bit further in my education, I want to see what different jobs and paths are available to me as a composer. It might be that after I complete my Masters, I go onto a PhD and then try to work in academia, for example. I'm sure the career aspects will work out with enough hard work and a bit of luck, but I don't have any specific jobs in mind yet.
Music at Memorial: Why did you choose to study Composition at Memorial?
Growing up in St. John's, I had quite a few run-ins with different people around the university. I had friends who went through the program and had really great things to say about the teaching. I also had some lessons with Dr. Nancy Dahn and thought she was an excellent teacher. I picked Memorial because it was home, but also, I really liked the teachers. There are so many exceptional professors here who have so much to offer and are such great educators. In my second year, I took the Intro to Comp class and absolutely loved it. I knew from there and decided to pursue composition.
The composition program gives you a broad pallet of tools to use as a composer which can apply to any style of music. You learn the fundamentals of how to write engaging and interesting music in a very well-structured and positive environment. There is a big collaborative aspect where everyone is helping each other out with their compositions and learning from each other. There are also aspects where you learn the professional side of composition - you learn how to market yourself as a composer and how to set yourself up for success when dealing with different organizations.
Music at Memorial: Do you have any advice for those looking to become Composition majors?
If you are in your second year, you should definitely take the intro to comp course. It is a great way to see if composition is something that would interest you or not. It is also the perfect tool for applying because by the end of this course, you have enough pieces to fill an application for the Composition program!
Don't be afraid to experiment and start writing. Get into the habit of making it a part of your daily or weekly practice to write music for fun!
- Interview conducted by Music at Memorial's Digital Marketing Intern, Sarah Knight.