Winter 2016 Course Offering - ARCH 2493: Archaeology on Film
Nov 26th, 2015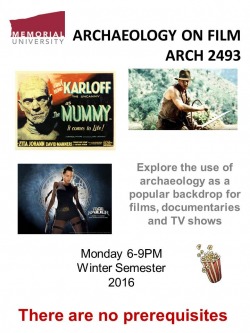 Winter 2016 Course Offering - ARCH 2493: Archaeology on Film
The Dept. of Archaeology will be offering ARCH 2493: Archaeology on Film during the winter semester.

This course explores the use of archaeology as a popular backdrop to many films and documentaries. Yet, the manner in which archaeology is represented in modern film is hardly realistic, or is it? The portrayal of archaeology in popular film will be discussed in order to determine what movies convey to the public about archaeological method and theory as well as the historical stories that archaeologists investigate.
Note: This course may not be used for credit toward a major or minor in Archaeology.