Academic-in-Residence Unpacked, Settled and ready to Help
Sep 20th, 2023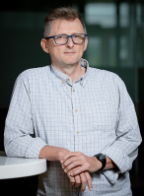 In partnership with Memorial's Office of Public Engagement and the Department of Geography, Faculty of Humanities and Social Sciences, Signal Hill Campus opened its doors to Dr. Richard Shearmur, professor of economic geography and former director of McGill's School of Urban Planning. While staying at Signal Hill Campus for the fall and winter semesters, Dr. Shearmur will draw on his more than 25 years of academic experience to help students and the public better understand what it is to be a researcher in academia.
One of the most important aspects of his tenure is his connection with Memorial's graduate students.
The first student office hours will take place on Sept. 22. Students can register by visiting the AIR website.
Dr. Shearmur will also work with graduate students from the Department of Geography, including guest lecturing in one of Dr. Nicholas Lynch's courses in January.