Scholarships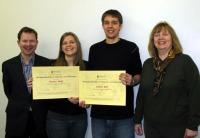 Captain James Cook Memorial Scholarship
A fund was established in 1979 by members of the Department of Geography to honor the memory of Captain James Cook (1728-1779), explorer, navigator and cartographer, whose years of painstaking mapping of the coasts of Newfoundland and Labrador laid the basis for a comprehensive scientific knowledge of the province.
At least one scholarship is awarded annually on the recommendation of the Department of Geography to a student demonstrating particular merit in geography.

Recipients are selected based on their academic standing: they must have completed 30 credit hours in two semesters of the previous academic year with an overall average of at least 75 per cent.
Honourable Fabian O'Dea QC LLD Scholarship
This scholarship has been established by the O'Dea family in memory of their father, the Honourable Fabian O'Dea; Memorial University of Newfoundland Alumnus, Rhodes Scholar, Lieutenant Governor of Newfoundland, and recipient of honorary degrees from both Memorial University of Newfoundland and The Law Society of Newfoundland. It is valued at $1,000 per year.

To commemorate Dr. O'Dea's work in Newfoundland cartography, the scholarship is to be awarded to a student majoring in Geography who achieves scholarship standing. Preference is to be given to a student who is physically or learning disabled but if there is no such candidate in a given year it will be awarded to any eligible undergraduate student.

The scholarship is to be awarded by The Senate Committee on Undergraduate Bursaries and Awards upon the recommendation of the Head, Department of Geography.