MUN Folklore Society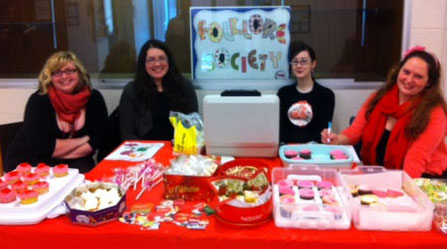 The MUN Folklore Society is a student organization for all students, from undergraduates to doctoral candidates, who are either pursuing Folklore Studies, or who are interested in learning more about folklore, ethnography, ethnomusicology, performance and general cultural studies. The Society hosts a variety of exciting events each year which allow students to get to know one another, including mixers, fundraisers and movie nights. Our annual Mary Griffiths Bursary Fundraiser has become a well-known and looked-forward-to event in St. John's, featuring an array of local talent, and the proceeds are used to provide field work bursaries for any student, regardless of degree, who is working on a folklore project in Newfoundland. As well as having fun and discovering fellow folklore-enthusiasts, the Society also provides an excellent opportunity to discuss important academic topics such as research methods, job opportunities, publishing, and conference presentations in a casual and relaxed atmosphere.
The Society chooses a new elective, including president, vice president, secretary and treasurer, each fall term, and undergraduates are encouraged to run for these positions. Posters announcing meetings and special events can be found at the Folklore Department or on this website - News & Events.

Our current elective is:
Matthew Liberty- President: msliberty@mun.ca
Donna Norvey - Vice-President: dmn030@mun.ca
Brittany Dyck - Secretary: bdyck@mun.ca
Treasurer - Open
For more questions or information please contact the Folklore Department, or send an email to folklore@mun.ca or any of our elective members.