Goals
Sustainable Development Goals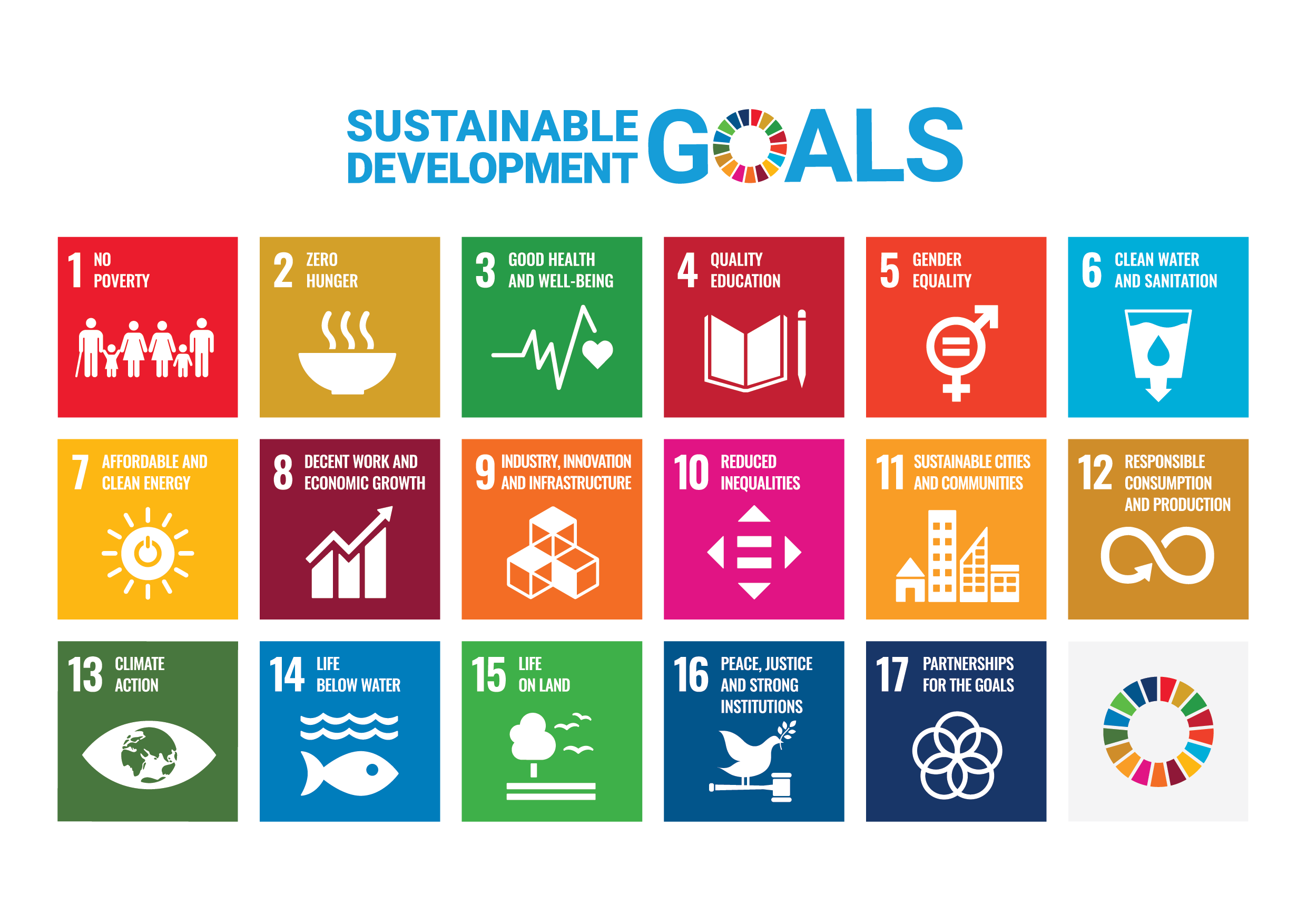 Memorial's commitment to SDGs
Sustainability is a priority at Memorial University, and related initiatives are overseen by the Sustainability and Climate Action Office and the University Sustainability Committee. Memorial University is committed to advancing the United Nations (UN) Sustainable Development goals (SDGs) through teaching and learning, research, public engagement, and administrative activities. Tell us what's happening in your area.
This commitment is represented in Memorial's 2021-2026 Strategic Plan, Transforming Our Horizons, which sets a path for the university to become "an engine of innovation and creativity, inventing resilient, sustainable, vibrant and inclusive tomorrows".
Introduction to SDG Reporting
The 2030 Agenda for Sustainable Development, adopted by all United Nations Member States in 2015, provides a shared blueprint for peace and prosperity for people and the planet, now and into the future. At its heart are the 17 Sustainable Development Goals (SDGs), which are an urgent call for action by all countries – developed and developing – in a global partnership. They recognize that ending poverty and other deprivations must go hand-in-hand with strategies that improve health and education, reduce inequality, and spur sustainable economic growth – all while tackling climate change and working to preserve our oceans and forests. For more information please see:
https://sustainabledevelopment.un.org/sdgs.
This reporting is a conceptual representation of the Memorial University's impact upon and progress towards the United Nations Sustainable Development Goals. The data and narrative included are factually based, but may not be all inclusive or include the most current examples. This reporting will evolve over time based on new program introduction, decisions, feedback from stakeholders and more.
Reporting Design
Under each SDG section in the left hand menu of this page, you will find information related to that goal that falls under the categories of Teaching and Learning, Research, Public Engagement and Administration.
Teaching and Learning
Memorial offers a vast array of certificate, diploma, undergraduate, and graduate degree programs in multiple modes and settings. In winter 2019, a refreshed teaching and learning framework was launched with a renewed focus on strengthening the student educational experience. The framework fosters a culture of creativity, innovation, and excellence for current and future academic program development and delivery that encompasses curriculum, learning environment, and information and communications technology tools. Summary data about teaching and learning at Memorial related to the SDGs will be found in this section.
Research
Memorial is focused on engaging faculty, students and staff in research and creative activity that is relevant to the province and beyond through its faculties, schools, research centres, and institutes. It is committed to pursuing research opportunities in a variety of strategic areas such as cold ocean engineering, marine science, technology, Indigenous Research, social and economic development, innovation and entrepreneurship, and many more. Memorial's Research Framework fosters a vibrant culture of scholarly inquiry at Memorial by encouraging cross-disciplinary collaboration and enabling resource sharing with a view of advancing knowledge, as well as impacting external communities at local, national, and international levels. Data about Memorial University's research and creative activities as they pertain to the SDGs is found in this section.
Public Engagement:
Memorial's commitment to the people and the province is demonstrated by its longstanding community partnerships and focus of efforts as an engaged university. Memorial continues to address the needs of government, communities, organizations, and businesses through many avenues such as applied research, service-learning, knowledge sharing, consultations, cooperative education programs, internships, and many other ways. Supported by the Public Engagement Framework and through the work of entities such as The Harris Centre, The Labrador Institute, The Gardiner Centre, Genesis, MI International, Grenfell Office of Engagement, Technology Transfer and Commercialization Office and Navigate, Memorial continues to strengthen linkages with traditional partners and seeks new opportunities to bring people together for problem-solving and innovation. The opening of the Signal Hill Campus, including the addition of the GEO Centre, as well as engaging with Alumni in new ways has served to strengthen Memorial's collaborative efforts and the engagement mission of the university. Data about Memorial University's Public Engagement activities as they pertain to the SDGs is found in this section.
Administration
While Memorial does not identify Administration as a line of business, it relies on an efficient and effective central administrative system to enable the achievement of Memorial's overall goals. Major functions, such as registrarial services, human resource management, finance, academic and administrative computing, facilities management, marketing and communications, student affairs, internationalization, risk management/audit, alumni relations and development, and analysis and planning are a few of the administrative units that support the strategic frameworks and the achievement of the university mandate as a whole. Examples of how Memorial University's administrative system supports the SDGs is found in this section.
News
Items from Memorial's news website, the Gazette, archives related stories to the Sustainable Development Goals.
From the Gazette