MUN Opera Roadshow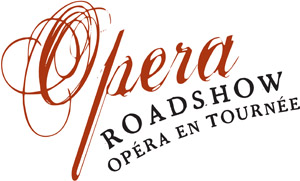 "I loved the opera very much. It was the first opera I ever saw so it was really very special to me. I think opera is really, really exciting." - Heather, Grade 4
OPERA ROADSHOW IS
An opera touring program that travels to the most remote communities in Newfoundland, Labrador and the Maritime Provinces
A professional development program for singers at the School of Music, Memorial University of Newfoundland
An outreach program that introduces young audiences to opera
An ensemble committed to community engagement and cultural exchange
A five week, paid professional development opportunity for young singers
A professional experience, unlike any other!
BACKGROUND
The Opera RoadShow is an ensemble committed to arts education through outreach and engagement. Since 2003, we have traveled to schools in Atlantic Canada, changing stereotypes and introducing tens of thousands of children to the engaging art of live opera theatre. Opera RoadShow brings fully staged and costumed operas out of the concert hall and into local schools.
Opera RoadShow has created an environment where young audience members experience opera through interactive performance and where young professional singers mature as performing artists.
By making opera accessible to children in even the most remote areas of our province, we help them to see it as a thriving art form that incorporates a myriad of artistic and technical disciplines.
In 2011, Opera RoadShow commissioned award winning composer and playwright, Dean Burry and Mélanie Léger to create a new operatic work for young audiences in French. Le nez de la sorcière or The Witch's Nose is a distinctively Atlantic Canadian Opera that toured schools in Newfoundland and Labrador in spring of 2011 and 2012.
MANDATE
Opera RoadShow is committed to the training of exceptional young artists through outreach-based performance. We actively explore new ways to engage the minds of students of all ages while enhancing the cultural life of the community. Professional training and educational outreach are the primary activities of this ensemble.
School outreach through the Opera RoadShow is a vibrant component in the professional development of its artists. Outreach is also an opportunity to give young audiences access to a new and powerful way of using their voices that expands creative communication in all aspects of their lives.
"It was nice to sing a story." - Alexandra, Grade 6
"That was the best oprah I've ever seen!" – Grade 1 student

PAST PRODUCTIONS
For many young audience members a visit from Opera RoadShow is their first experience with live theatre.
Past opera tours have included:
Ravel's L'enfant et les sortilèges; Cinderella (en route) anadaptation of Massenet's Cendrillon and Rossini's La Cenerentola sung in French and English; Hansel & Gretel by Humperdinck; The Three Little Pigs and Little Red's Most Unusual Day, both adaptations of operas by Mozart, Offenbach and Rossini by American composer John Davies.
NEW WORKS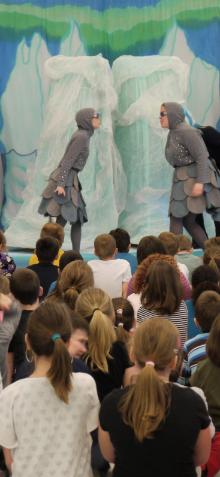 Opera RoadShow is dedicated to new work development and in 2006 we commissioned our first opera. The Vinland Traveler writtenby award-winning composer Dean Burrywas the first opera commission based on Newfoundland's history to be performed in this province and the first to travel to schools in the remote coastal communities of Labrador. It was recorded and aired on CBC's, Musicraft. Le nez de la sorcière/The Witch's Nose (2011)was our first French opera commission. It was written by composer Dean Burry and librettist Mélanie Léger as a joint production with L'Université de Moncton. It toured communities throughout Newfoundland and Labrador.
OUR YOUNG ARTISTS - What Our Performers Say
"The Opera RoadShow gives students an opportunity to perform everyday and it is where you are able to expand your acting and performing as well as professional development skills."
Suzanne Rigden
BMUS Performance, Memorial University of Newfoundland (2007)
MMUS Opera Performance, The University of British Columbia (2009)
Atelier Lyrique, L'Opéra de Montréal (2009-11)
Merola Opera Program (2011/2012)
"One of the highlights of the program is that it also offered me professional touring outreach opportunity during the summer, performing over 75 performances all around the province. This kind of hands-on training is invaluable for young performers to hone their craft and nurture their skills as developing opera singers. Dr. Schiller, the creator and director of the program, held high expectations of the students, and the results cannot be denied. My training at Memorial not only gave me experience, but educated and prepared me about skills needed for a professional career in opera."
David Kelleher-Flight
BMUS Performance, Memorial University (2004)
MMUS Performance/Opera Manhattan School of Music (2006)
DMA Voice Performance, SUNY Stony Brook (2012)
Ashlawn Opera, Aspen Opera, NY City Opera,
NY Lyric Opera-Carnegie Hall Debut, Ohio Light Opera
AFTER THE ROADSHOW
We are proud of our alumni, their successes while in the program and after. Among their many professional accomplishments, our singers have been accepted to and rewarded by the following competitions, graduate music schools, and summer programs:
Aspen Music Festival
Atelier Lyrique de l'Opéra de Montréal
The Banff Centre (Opera Program)
Centre for Opera in Sulmona Italy (COSI)
Halifax Summer Opera Festival
Manhattan School of Music (Opera Studies)
McGill University
Metropolitan Opera, National Council Auditions
New England Conservatory (Opera Studies)
NY Lyric Opera
Opera NOUVA
Opera on the Avalon
Orford Summer Program
Rider University
Royal Northern College of Music (MMUS Opera)
University of British Columbia (MMUS Opera Studies)
University of Manitoba
L'Université de Montréal
University of Toronto (Opera School & MMUS)
Western University
Vancouver Opera
Vancouver International Song Institute (VISI)