Faculty and instructor profiles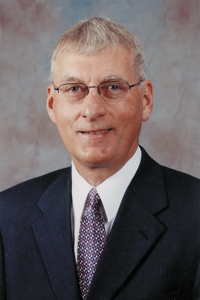 Professor Emeritus
Robert Sexty
B.Comm., MBA, PhD
Areas of Expertise
Corporate Social Responsibility, Corporate Sustainability, Ethics of Business
Personal Profile
Dr. Sexty is Professor Emeritus, Strategy and Business Ethics, at the Faculty of Business Administration, Memorial University of Newfoundland which he joined in 1968 retiring in 2007. He holds bachelor, masters, and doctoral degrees in Business Administration from the University of Alberta, Queen's University, and the University of Colorado respectively. Sabbatical years have been spent at the Harvard Business School, Boston, and the University of Auckland, New Zealand. He was awarded one of the "2001-2002 Leaders in Management Education Awards" sponsored by the National Post and PricewaterhouseCoopers.
At Memorial, Dr. Sexty taught "Business Policy" (Strategic Management), "Introduction to Business," and "Business and Society" (Business Ethics) courses at the undergraduate and graduate levels. He developed, and has taught, business strategy and business ethics courses in Athabasca University's Electronic MBA Program. He has taught dozens of management development seminars and workshops on many management topics, including strategic management and business ethics.
He is the author of Issues in Canadian Business, the fourth edition of which was published in 1998 as Canadian Business in the New Stakeholder Economy. He is also the co-author of Exploring Strategic Management published in 1989, and Contemporary Management in Canada published in 1992, 1995 and 1998. A fourth book, Canadian Business and Society: Understanding the Social and Ethical Challenges was published in January 1995. All books were published by Prentice Hall Canada. A book on business ethics, Canadian Business and Society: Ethics and Responsibilities was published in January 2008 by McGraw Hill Ryerson, a second edition published 2011, and the third edition in 2014. He is the author of several business and society/business ethics case studies.
Dr. Sexty is a past President of the Administrative Sciences Association of Canada, and is a member of, and active in, many academic and professional associations. He consults in the area of strategic planning and management for business, government, and non-profit organizations, and acts as a facilitator in sessions for management groups and Boards of Directors.
Voluntary organizations in which Dr. Sexty plays an active role include: the Consumers' Association of Canada, the Royal Commonwealth Society, The Institute of Public Administration of Canada, and Junior Achievement's Newfoundland and Labrador Business Hall of Fame. He was on the Board of Directors of the St. John's Transportation Commission, Egg Farmers of Canada, East Coast Trail Association and is presently Past Chair, Anglican Homes Inc.
Recent Publications
Canadian Business and Society: Ethics, Responsibilities and Sustainability. Fifth Edition (print and e-book) Toronto: McGraw-Hill Ryerson. January 2020.
"Business @ Memorial: Reminiscences of Progress and People" (with J. Barnes) in Roberta Buchanan and Stephen Riggs (eds.), Creating a University: The Newfoundland Experience, St. John's, NL: ISER Books, 2019, pp. 173-178.
"Don't Just Dump It!: Saving Sandy Pond," Case Research Journal, Vol. 33, No. 1, Winter 2013, 117-135 (co-authored with MBA Student Kristen Baker and Professor Natalie Slawinski). [Available from case clearing centers, including North American Case Research Association, CasePlace, and HBSP Higher Education Metadata.]