Faculty and instructor profiles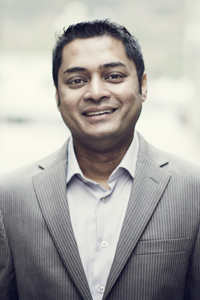 Professor
Ashrafee Hossain
B.S., MBA, PhD, CFA
Areas of Expertise
Finance
Personal Profile
Dr. Ashrafee "Ash" Hossain is a professor of finance at the Faculty of Business Administration at Memorial University. He started at Memorial in 2013 as a tenure-track assistant professor. He was promoted to associate professor with tenure in 2019 and to full professor in 2023.
Dr. Hossain's research interests include environmental, social and governance (ESG) related topics. Some examples include climate change, carbon emission, political corruption, corporate social responsibility (CSR), business ethics, corporate sexual orientation equality, social norms, social capital, board diversity, chief executive officer (CEO) power, executive compensation and board independence.
Dr. Hossain has published 52 peer-reviewed journal articles in 30 different outlets (as of Sept. 14, 2023). Some notables include Journal of Corporate Finance, Journal of Banking & Finance, Journal of Economic Behavior & Organization, Journal of Business Ethics, The Financial Review, Journal of Financial Research and British Journal of Management.
Dr. Hossain strongly believes that academicians should not only disseminate their research through peer-reviewed outlets but also through regular print and/or online media. He published two articles at The Conversation (a platform where academics publish practitioner views of their research) in 2022, one on LGBTQ+ rights and the other on climate change. Dr. Hossain's article on LGBTQ+ rights, "CEOs are hindering LGBTQ+ equality in the workplace," proved immensely popular and it was reprinted by more than 50 outlets including the Financial Post, The National Post and Vancouver Sun.
Some of Dr. Hossain's other accomplishments include serving as guest editor of Managerial Finance and as an ad hoc reviewer for over 30 journals. Dr. Hossain has continuously served in various capacities for the largest finance conference, namely, Financial Management Association (FMA) Annual Meetings, since 2012. He has also served as a grant adjudicator for the Social Sciences and Humanities Research Council Insight Development Grant (SSHRC-IDG) competitions for the years 2021, 2022 and 2023.
Dr. Hossain is a member of the CFA Institute and the only full-time tenured/tenure-track member of the faculty to hold the CFA Charter. He has been dedicated to teaching his students about ethics in work place, ethical investment, and ethics in their dealings with others, and he has mentored students pursuing CFA Level I exams since 2013.
Link to my Google Scholar page: https://scholar.google.ca/citations?user=_3QeEb0AAAAJ&hl=en.
Honours/Awards/Accreditations

2003: Graduated summa cum laude, Virginia Tech
2003: Outstanding Undergraduate Student distinction, Beta Gamma Sigma Honor Society
2005: Outstanding MBA student, Virginia Tech
2007: National Bank Fellowship, Concordia University
2013: Joe Kelly Graduate Award for Outstanding Thesis, Concordia University
2017: Patten Family Teaching Fellowship, Memorial University
2017: Chartered Financial Analyst (CFA) charter, CFA Institute
2018: Guest editor-in-chief, special issue of Managerial Finance
2020: Dean's Research Award, Memorial University
2020: Paper selected as lead article for the fall issue of Journal of Financial Research (ABDC "A" ranked outlet)
2020: Secured funding from Social Sciences and Humanities Research Council (SSHRC) of Canada
2021: Co-authored paper titled Post-crisis M&As and the Impact of Financial Constraints, which won the Outstanding Article of the Year Award at Journal of Financial Research (an ABDC "A" ranked outlet).
2023: Co-authored paper titled Long-term Institutional Investors and Climate Change News Beta, which was a semifinalist at the Financial Management Association (FMA) 2023 International Annual Meeting, Chicago, U.S.
2023: Nominated for President's Award for Outstanding Research, Memorial University

Research Highlights