Faculty and instructor profiles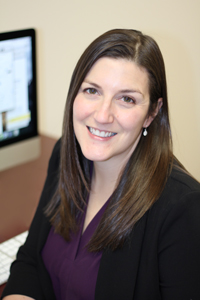 Associate Professor
Alyson Byrne
B.A., B.Comm. (Co-op)(Hons.), M.Sc., PhD
Areas of Expertise
Human Resource Management, Organizational Behaviour
Personal Profile
Dr. Alyson Byrne is an assistant professor in organizational behaviour and human resource management at the Faculty of Business Administration at Memorial University. She received her PhD in organizational behaviour from Queen's University in 2013. Prior to arriving at Memorial, Dr. Byrne also worked at the University of Manitoba and completed a post-doctoral fellowship in leadership at the Ivey Business School at Western University.
Dr. Byrne's research interests lie primarily in leadership, status, gender and relational outcomes. She has been published in journals such as The Leadership Quarterly and the Journal of Business Ethics and has presented her research at numerous international conferences. She has also been the keynote speaker for a number of public events concerning her research on leadership and gender.
Honours/Awards/Accreditations
2015
SSHRC Insight Development Grant: "Women's ambiguous leadership trajectories – identity, motivation and effectiveness." (Principle investigator)
Research Highlights

Byrne, A., & Barling, J. (2017). When she brings home the job status: Wives' job status, wives' status leakage and marital instability. Organization Science, 28, 177-192.
Crossan, M., Byrne, A., Seijts, G., Reno, M., Monzani, L. , & Gandz, J. (2017) Toward a framework of leader character in organizations. Journal of Management Studies. Advance online publication. doi: 10.1111/joms.12254.
Byrne, A.*, Dionisi, A.*, Barling, J., Akers, A., Robertson, J., Lys, R., Wylie, J., Dupré, K. (2014). [*Authors 1 and 2 contributed equally and share first authorship]. The depleted leader: The influence of leaders' diminished psychological resources on leadership behaviors. The Leadership Quarterly, 25, 344-357.
Byrne, A., Barling, J., Dupré, K. (2014). "Leader apologies and employee and leader well-being." Journal of Business Ethics.121, 91-106.
Byrne, A. & Barling, J. (2015). "Leadership and Project Management Teams." In F. Chiocchi, E.K. Kelloway, & B. Hobbs (Eds.), The Psychology of Project Teams: An Interdisciplinary Perspective. New York: Oxford University Press.