Faculty and instructor profiles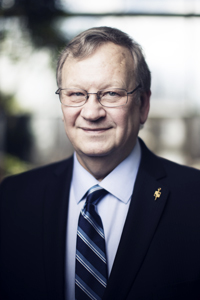 Professor Emeritus
Alex Faseruk
BA, B.Comm., MBA, DBA, MTS
Areas of Expertise
Finance
Personal Profile
Dr. Faseruk was a pillar of teaching and research excellence at Memorial's business faculty for 34 years who retired in 2015.
A 3M Teaching Fellow, he received 24 teaching awards over the course of his career including Professor of the Year from graduating classes, the President's Award for Distinguished Teaching, National Post's Leaders in Management Education, the Distinguished Teaching Award from Academy of Finance and the Beta Gamma Sigma Leadership Award.
He coached Memorial teams in national and international case, paper writing, stock market and entrepreneurial competitions that resulted in Memorial students winning more than 50 first places. In 2006, he was the inaugural recipient of the Dr. J. Pierre Brunet Coach Award at the John Molson MBA International Case Competition and he won the Arnoldi Award for Coaching Excellence at the Intercollegiate Business Competition Championships in 2008.
A graduate of Queen's University, Dalhousie University, University of Kentucky and Queen's College, Dr. Faseruk produced over 80 referred proceedings and conference papers as well as 45 journal publications. He served on the editorial boards of three journals and has been on the executive of four research organizations including president of MBAA International. He also received 20 awards recognizing his service to the business faculty and the university, including Memorial's Faculty Volunteer of the Year Award in 1999.
In 2016, Dr. Faseruk was named a professor emeritus and also received the John Lewis Paton Distinguished University Professorship, which recognizes faculty members who embody the mission of Memorial University through exceptional teaching, world-class research and knowledge dissemination.
That same year, the Faculty of Business Administration created the Dr. Alex Faseruk Teaching Chair in Financial Management Education in recognition of his contributions in this vital area of business education.